Reconstructing NW/SW : Kumba Population Salutes Presidential Plan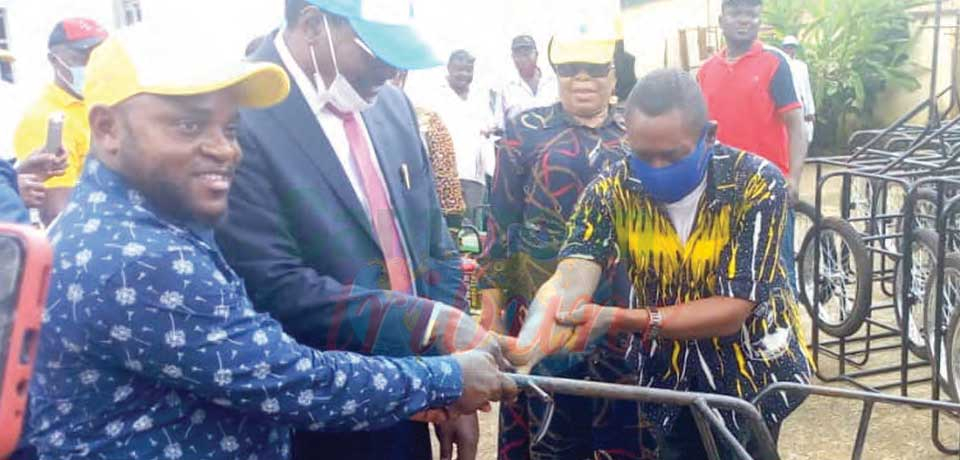 They were handed farming tools to facilitate agricultural production for better living conditions.
A cross-section of the population of Kumba I Subdivision in Meme Division of the South West Region has wholeheartedly welcome the Presidential Plan for Reconstruction and Development (PPRD). This was witnessed during the distribution of farming materials by the Mayor of Kumba I Council, Barrister Eseme Moses Esambe to some 135 farmers at the Kumba I Council premises on Wednesday October 20, 2021. The items which were donated by the implementing partner of the Presidential Plan, the United Nations Development Programmme, (UNDP) was handed to three categoies of farmers. They included 27 farmers that received items for poultry farming in which each of them were entitled to a 100 chicks, 11 planks to reinforce their poultry farms, drinkers and wheelbarrows for transportation. The other categories included farmers keeping pigs, each of them were entitled to four piglets, planks, wheelbarrow, wires, and some agricultural products.
The other 80 farmers are those involved in food and cash crops such as cocoa, plantains, and others. They were accorded farming tools such as automatic sprayers, cutlasses, hoes, to better engage in agriculture.
Mayor Eseme said the Council has been represented in many seminars and follow up meeting concerning the PPRD which help in facilitating the distribution of the items.
For his part, Ali Anugo, Divisional Officer for Kumba I, said he was satisfied with the exercise which began with the distribution of farm inputs that will assist in spurring up the dwindling economy of the locality. He called on those who benefitted in the distribution exercise to put the items into good use. To those who did not benefit, he urged them to be patient for theirs shall meet them before the programme elapses.

Same category