The Gambia: Presidential Election Petition Trial Adjourned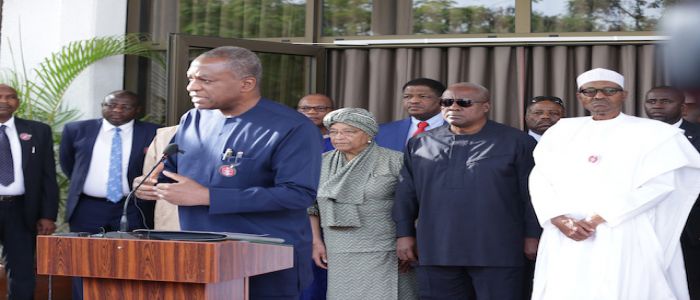 The Supreme Court yesterday, January 10, 2017, failed to hear President Yahya Jammeh's appeal for want of quorum.
The presidential electoral crisis in The Gambia seems set to continue following the failure of the Supreme Court yesterday, January 10, 2017, to hear a petition filed last month by President Yahya Jammeh over his defeat by opposition candidate Adama Barrow. Agency reports said the matter was adjourned to next May by the Nigerian-born Chief Justice of The Gambia, Emmanuel Fagbenle, for lack of quorum. It is understood that four Justices who were expected from Nigeria and Sierra Leone did not turn up.
A letter of January 5, 2017 from Walter Samuel Nkanu Onnoghen, the Acting Chief Justice of Nigeria, published yesterday in the local press, said the timing of the court sitting was not suitable. Chief Onnoghen, replying to a December 21, 2016 request by Chief Justice Fagbenle for Justices, recalled that the understanding between the two judiciaries provides for Nigeria to send Supreme Court Justices to sit on The Gambian bench only in the months of May and November.
"In view of the above, I regret to inform you that the re-scheduled date for the sitting session of your Supreme Court is unfavorable to us as it will greatly affect our schedule and case management. I therefore urge you to adhere to the earlier schedule of May and November each year to avoid inconveniences to both judiciaries," Chief Justice Onnoghen wrote. Meanwhile, Nigerian President, Muhammadu Buhari, who was today January 11, 2017, expected to lead another delegation of ECOWAS regional leaders to Gambia to persuade President Jammeh to hand over power on January 19, 2017, to Adama Barrow, has postponed the trip to Friday, January 13, 2017. Presidential sources in the Nigerian capital, Abuja, said the postponement was at the instance of President Jammeh.
In a related development, Jammeh has sacked 12 Gambian Ambassadors who recently opposed his attempts to remain in power after losing the December 1, 2016 vote, the local press reported
Same category