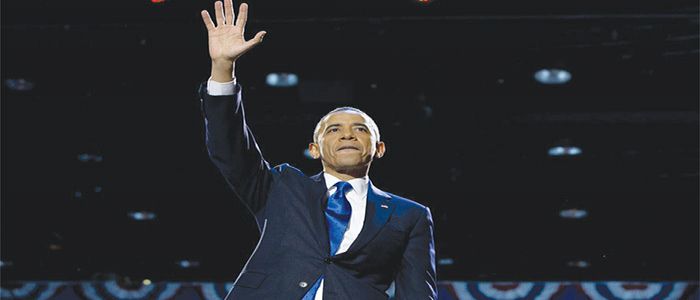 The country's first black leader on January 10, 2017 made his last speech as he prepares to leave office next week.
United States of America President, Barack Obama, the country's first ever black leader, is due to hand over power on January 20, 2017, to Donald Trump of the Republican Party who beat Hillary Clinton in last month's poll. In preparation for his departure from office after two maximum four-year terms, Obama on January 10, 2017, made a speech from Chicago.
While lauding the steadfastness of American democracy, President warned against threats such as economic inequality, racial divisions and the retreat of different segments of society into "bubbles," where opinions are not based on "some common baseline of facts." "I am asking you to believe. Not in my ability to bring about change - but in yours," Obama said, BBC reported yesterday, January 11, 2017. He told thousands of supporters that he was leaving America better and stronger than he met eight years ago. He implored Americans of all backgrounds to consider things from each other's point of view, saying "We have to pay attention and listen."
He summarised his achievements from the Iran nuclear deal to reforming healthcare. Observers said much of the speech was dedicated to boosting the morale of supporters shaken by Donald Trump's shock election victory. "For all our outward differences, we are all in this together," Al Jazeera quoted him as saying. Obama asked his supporters to defend his legacy and reminded Americans that they were all on the same team. "We rise or fall as one. All of us, regardless of party, should throw ourselves into the task of rebuilding our democratic institutions," Obama urged Americans.
Obama was joined by First Lady Michelle Obama, Vice President Joe Biden and his wife Jill. Wiping a tear from his eye, Obama paid poignant tribute to his own family, his daughter, Malia, who was present, and Sasha, who was not, and the First Lady whom he described as his best friend.
Same category