Gambian Electoral Crisis: ECOWAS Gives Till January 19 For Resolution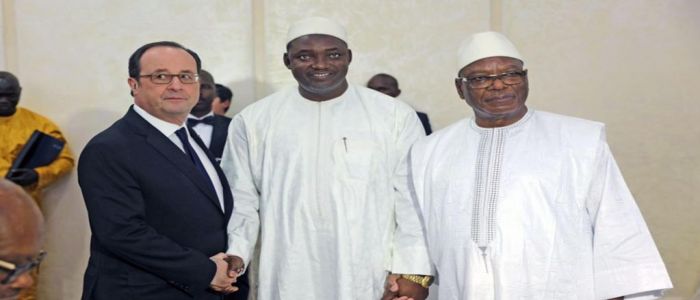 West African regional leaders met over the weekend in Bamako, Mali, on the sidelines of the France-Africa Summit.
The election crisis in The Gambia continues to drag on as a delegation of West African leaders who travelled to Banjul on Friday, January 13, 2017, failed to reach a solution with President Yahya Jammeh, agency reports said. Led by Nigerian President, Muhammadu Buhari, the leaders chosen by the Economic Community of West African States, ECOWAS, failed to convince President Jammeh to hand over power to Adama Barrow, winner of the December 1, 2016 presidential poll.
Rising from a mini-summit in the Malian capital, Bamako, on January 14, 2017, on the sidelines of the 27th France-Africa Summit, West African leaders gave until Thursday, January 19, 2017, to find a solution to the problem. President-elect Adama Barrow is due to be sworn in next Thursday. Barrow was invited to the Bamako meeting where he discussed with regional peers.
Togolese President, Faure Gnassingbé, who spoke to the press after the mini-summit, said ECOWAS had another option if a solution was not found by the said date, Radio France Internationale, RFI, reported on January 15, 2017. He did not however disclose the details.
Meanwhile, President-elect Adama Barrow is to remain in Senegal until his planned inauguration this Thursday, Senegalese media reported yesterday, January 15, 2017. The move was requested by West African leaders after the Mali summit. ECOWAS wants the UN to approve military action if Barrow's inauguration on Thursday is blocked. Back in The Gambia, thousands of people, including foreigners, have already fled to neighbouring Senegal and as far as Guinea-Bissau for refuge, the BBC reported yesterday.
Same category