Cameroon-Egypt : Ambassador Says Goodbye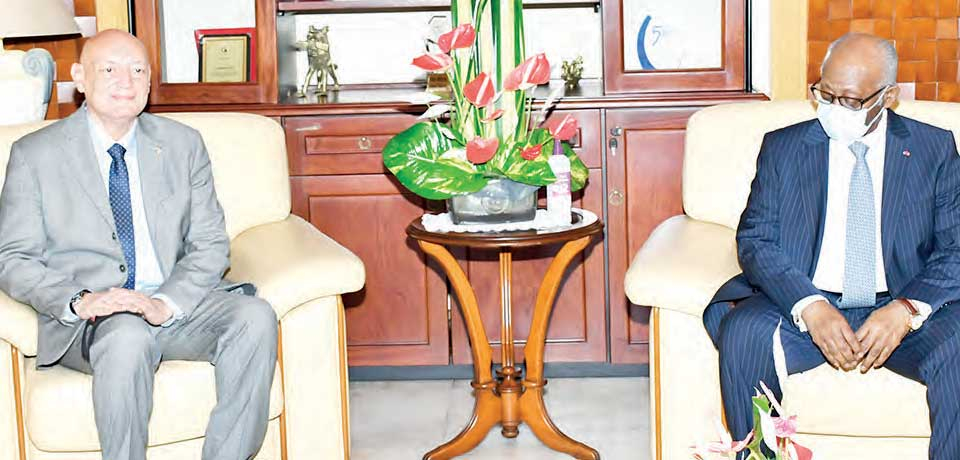 Medhat El-Meligy was granted a farewell audience by Minister Mbella Mbella on January 20, 2022.
External Relations Minister, Mbella Mbella on January 20, 2022, accorded a farewell audience to the outgoing Egyptian Ambassador to Cameroon, Medhat El-Meligy, who has come to the end of his diplomatic stay in Cameroon. The two personalities appraised bilateral relations existing between the two countries with particular focus on progress recorded under the tenure of the Ambassador who came to bid farewell.
In his statement to the press after the audience, Ambassador Medhat El-Meligy expressed his satisfaction to the growing bilateral and multilateral ties between Cameroon and Egypt. "We talked about bilateral relations between us and multilateral relations too. I can tell you that we are certain and confident that our relations have reached a peak when it comes to good ties between Cameroon and Egypt. I am personally satisfied with what I have done here but as you know, diplomacy is a continuous process. So, am waiting for the new Ambassador that will replace me to continue from where I have ended so as to enlarge the scope of our relations," the Ambassador stated, adding that the Ministry of External Relations is the official body with which cooperation ties are assessed between Cameroon and Egypt.
Concerning the ongoing AFCON TotalEne...
Same category