56th National Youth Day : Gov't Unveils Celebration Mechanisms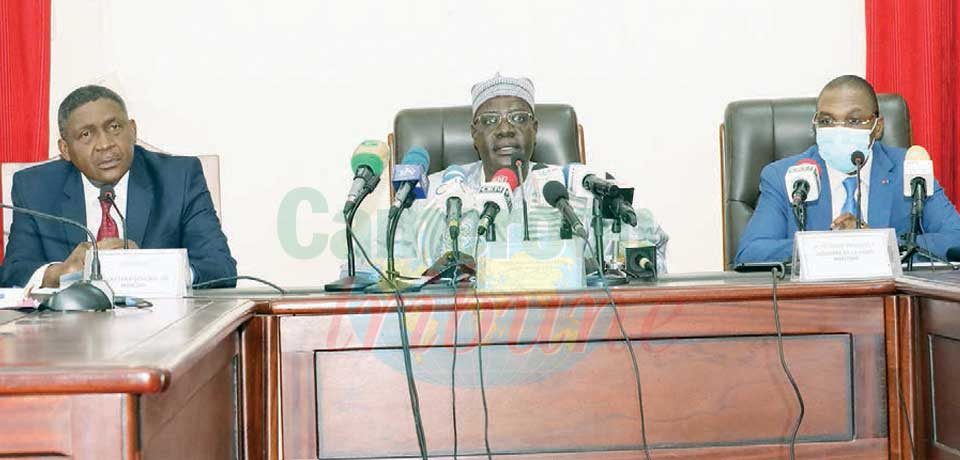 The Ministers of Youth Affairs and Civic Education and Public Health assisted by the Secretary General of MINCOM gave a joint press conference on that yesterday January 27, 2022.
In prelude to the upcoming 56th edition of the National Youth Day to be commemorated on February 11, 2022, the Ministers of Youth Affairs and Civic Education, Mounouna Foutsou and Public Health, Manaouda Malachi, with the Secretary General of the Ministry of Communication, Felix Zogo, representing the Minister, granted a joint press conference on January 27, 2022 on various dispositions taken to enable a hitch-free celebration.
To be commemorated under the theme, "Youth and Voluntary Participation in the Major Challenges of Cameroon," earmarked activities are geared at encouraging Cameroonian youths to unite and mobilise themselves around the ideals of peace, freedom, justice, social progress and solidarity, social cohesion and national integration. The Cameroonian youth, Minister Manaouda stated, are currently grappling with several challenges including security crises rocking the Far North, North West and South West Regions, the deterioration of moral values, increasing violent extremism in addition to the health challenges brought about by the Covid-19. Reason activities will focus on social responsivity and moral rearmament. "In addition to the theme of the celebration, the top hierarchy also validated the Harmonised National Programme (HNP) of the "Youth Onzaine". Activities selected to be carried out, in strict respect of government measures against Covid-19 are; the official launch of events, the official launch of the National Civic Education Programme for Moral and Entrepreneurial Rearmament (PRONEC-REAMORCE), youth villages, the youth parliament, continued implementation of Municipal and Regional Youth Councils, the intensification of the national civic education campaign on social media networks, operat...
Same category