Cameroon-South Africa : Pan-African Partners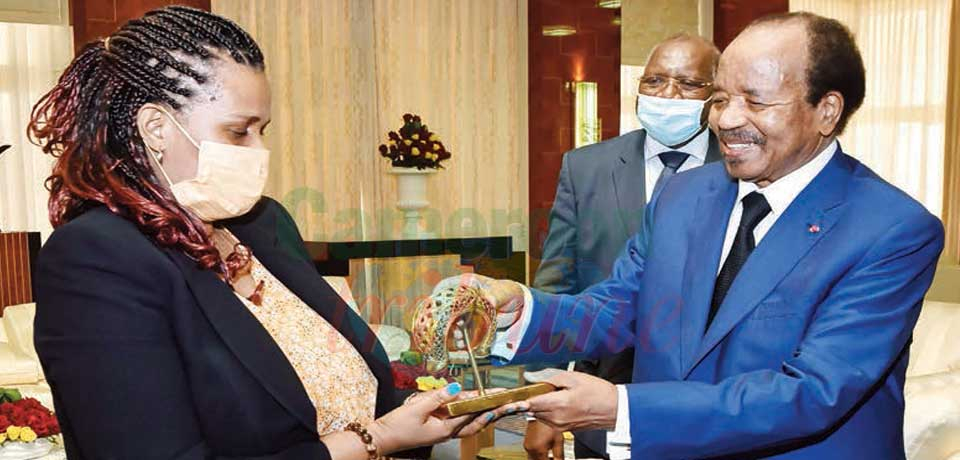 Holding dear to democratic values and nationalism is something that links Cameroon and the Republic of South Africa together. The two countries established diplomatic relations in April 1994 and each has diplomatic representation (High Commission) in each other's country. To better appraise existing diplomatic relations, the President of the Republic, Paul Biya on January 31, 2022 received in audience the South African High Commissioner to Cameroon, Kgomotso Ruth Magau, who has come to the end of her diplomatic stay in Cameroon. Besides reviewing bilateral relations between the two countries who are both signatories to the African Charter on Human and People's Rights, the High Commissioner had the opportunity to present her gratitude to the Head of State for the collaboration she received from government and the people of Cameroon during her tenure in Cameroon. Several cooperation accords exist between Cameroon and South Africa in domains like education, health, culture and trade.
Commercial relations have remained friendly between the land of legendary hospitality and the rainbow nation, with trade exchanges having reached FCFA 50 billion in 2017, a situation which keeps progressing. In June 2019, Douala hosted an economic and commercial forum that brought together economic operators from Cameroon and South Africa. There exists South African firms in Cameroon with the most prominent amongst them being MTN Group (mobile telephone company) and CHOCOCAM TIGER BRANDS (food industry). During the 2019 edition of PROMOTE (an international tr...
Same category