Digital Africa Award: "GiftedMom" Is Best Health Innovation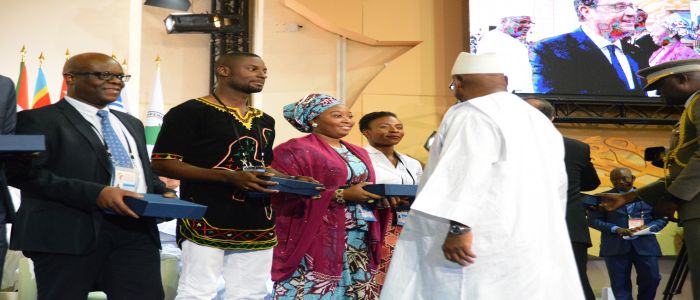 Dr Agbor Ashu, Medical Director of the platform, received the prize in Bamako, Mali, on January 14, 2017.
GiftedMom, a health application that offers improved healthcare to pregnant women and nursing mothers has again received international recognition. The latest is the Digital Africa Innovation Challenge that was opened to African and French start-ups in October 2016. GiftedMom bagged the prize on January 14, 2017, in Bamako Mali, on the sidelines of the 27th Africa-France Summit.
Dr Agbor Ashu, Medical Director of GiftedMom, received the prize from French and Malian Presidents, François Holland and Ibrahim Boubacar Keita respectively. The platform was recognised for innovation in access to health as well as its strong ability to scale down maternal mortality. The award came after the November 2016 "La France s'engage au Sud" recognition in Paris, France, where Dr Agbor Ashu received a prize, with endorsement and appreciation from the French President.
After dedicating the award to the over 29,000 pregnant women and nursing mothers registered on the platform as well as supporters and well-wishers, Dr Agbor Ashu intimated that "We will stop at nothing to get our services across the national territory and Africa at large". Other winners were from Nigeria, Kenya, Senegal and Ghana. The Digital Africa Challenge was organised by the French Development Agency and the French Public Investment Bank to provide professional support to start-ups. The award recognises inventions on sustainable development.
GiftedMom has come a long way and it is not surprising that its efforts in improving healthcare access are recognised the world over. Currently, over 29,000 pregnant women and nursing mothers are registered in the GiftedMom platform applied in over 24 health facilities in Cameroon. As part of its sustainable and scaling activities, the platform on January 17, 2017, in partnership with a telecoms operator, launched the service, MumCare, where pregnant women, nursing mothers and youths can subscribe via #203*241#.
The service provides life-saving health education on pregnancy, baby care and family planning. Subscribers receive up to 20 messages per month at 200 FCFA. Meanwhile, GiftedMom plans to extend its services to Haiti, Mali and Côte d'Ivoire.
Same category