External Relations: Diplomacy To Foster Economic Emergence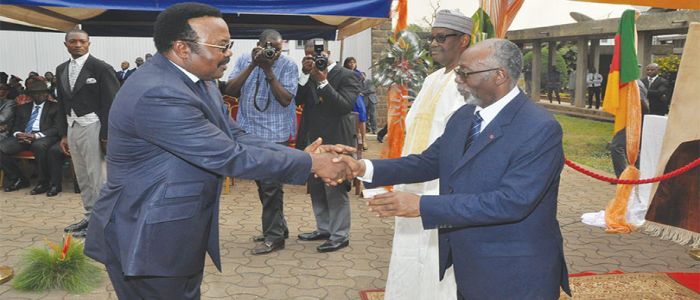 Minister Lejeune Mbella Mbella yesterday received New Year wishes from staff.
Staff of the Ministry of External Relations have been exhorted to step up efforts in order to render Cameroon's diplomacy more efficient and respected on the international scene. This, as the country's diplomacy must continue efforts towards fostering economic emergence of Cameroon by 2035 as desired by the Head of State, Paul Biya. The Minister of External Relations, Lejeune Mbella Mbella, made the exhortation yesterday in Yaounde while receiving New Year wishes from staff.
The intense diplomatic activities in 2016 according to Mbella Mbella recorded resounding successes with benefits felt in the political, humanitarian, social and cultural development of the country. He revealed that about FCFA 828 billion was received last year as financial fallouts of bilateral and multilateral cooperation while about 118 agreements, conventions, protocols and memoranda were signed.
Prominent amongst them were agreements for reciprocal exemption from the requirement of visas for holders of diplomatic and service passports with China, Italy and Mali and a host of others still in gestation. These achievements notwithstanding, the Minister underlined, enormous challenges still abound and must be surmounted through hard work, respect of rules and professional ethics.
Earlier, the Permanent Secretary in the Ministry of External Relations, Felix Mbayu, while extending best wishes to the Minister and the Minister Delegates in charge of Relations with the Commonwealth and Islamic World, Chief Dr. Joseph Dion Ngute and Adoum Gargoum respectively, stated that the balance sheet of the ministry was positive with improved working conditions and increase in staff strength to 1,206. The Scribe noted with satisfaction the updating of the ministry's website, extension of the computer network, development of software for the management of diplomatic archives, amongst others.
The traditional New Year wishes ceremony was marked by the decoration of some staff with various medals.
Same category