After Winning 2021 AFCON: Team Senegal Gets Hero's Welcome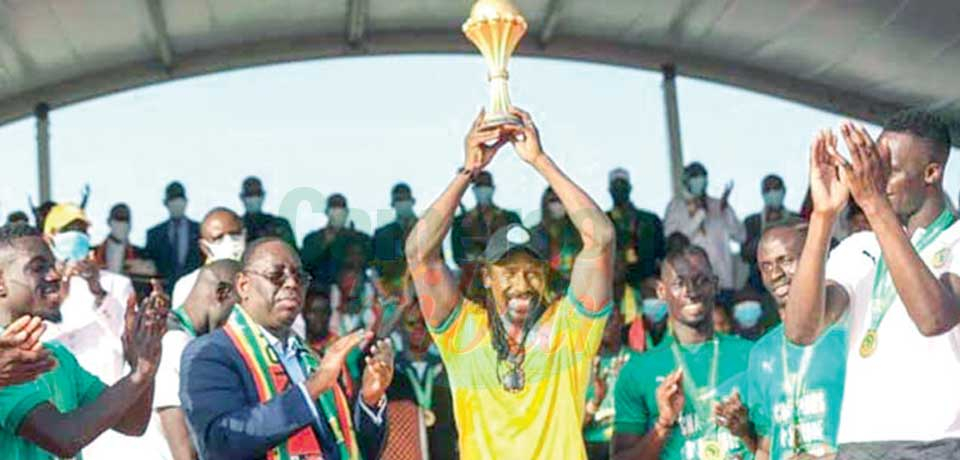 They were received by President Macky Sall accompanied by a huge crowd of fans on arrival at the airport in Dakar on Monday February 7, 2022.
After missing out on the title in two finals of the Africa Cup of Nations (AFCON), Senegal finally lined up its name as one of the countries that has won the competition by beating Egypt on penalties during the final of the just-ended 2021 AFCON. Winning the title for the first time in history occasioned widespread celebration across the country. Senegal reportedly did not sleep on the night of the victory as supporters thronged the streets to revel the long-awaited victory.
The team was given a triumphant welcome at the airport in Dakar on Monday February 7, 2022 when they finally arrived home with the trophy. On hand to receive the 28 Lions, the technical staff and the members of the federation who had spent a month in Cameroon toiling for victory, was the Senegalese President, Macky Sall. He was accompanied by huge crowds of Senegalese who were admitted into the premises. To give honour to whom it is due, it is reported that President Macky Sall who had been outside the country cut short his foreign trip to return to Dakar and receive the players.
Talking to the players and entire staff at the airport, the President congratulated the team's bravery and determination to fly the flag of the country high all through the just-ended AFCON. He expressed delight over the fact that the tradition of not winning the AFCON had been finally broken. It is reported...
Same category