Building Construction Norms : PM Prescribes Respect By Private Individuals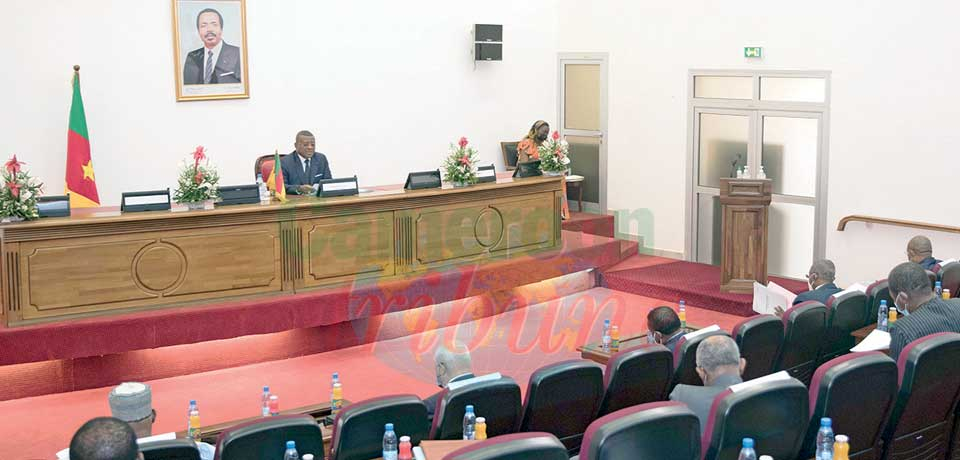 The cabinet meeting of February 24, 2022 focused on respect of building construction norms, ratio of digital procurement of public contracts and situations of Covid-19 and cholera.
Prime Minister, Head of Government, Joseph Dion Ngute during the cabinet meeting of February 24, 2022 gave instructions to all actors to ensure the respect of building construction norms by private individuals. He presided at the cabinet meeting at the Auditorium of the Prime Minister's Office.
Talking to the press after the cabinet meeting, the Minister of Housing and Urban Development, Célestine Ketcha Courtes said over 90 per cent of private buildings constructed do no respect the norms provided for in the different laws and accompanying decrees. She said the Prime Minister instructed that the various actors concerned carry out awareness creation campaigns. Mayors of City, Subdivisional and local councils, she said, are at the centre of the implementation of the building construction norms. While ensuring the respect of the laws and regulations, the mayors also have to facilitate access by the private individuals to other key actors who are architects and engineers. The consequences of non-respect of building construction norms, the Minister cited include floods, collapse of buildings, more frequent fire accidents, proliferation of anarchy leading to the emergence of shanty neighbourhoods and proliferation of sickness due to poor hygiene and sanitation measures.
Concerning the epidemiological situation of the Covid-19 pandemic in Cameroon on the morrow of the country's organisation of the Africa Cup of Nations (AFCON) 2021, the Minister of Public Health, Manaouda Malachie said it was stable. He disclosed that at moment there are five Covid-19 patients throughout the country and four of them were on oxygen. He called for vigilance and insisted on the necessity for vaccination. He disclosed that an intensive vaccination campaign has been programmed for March 13- 20, 2022 nationwide. On the situation of the outbreak of cholera with 18 Health Districts concerned since October 2021, he said the situation was more preoccupying only in the South West Region, particularly in the Ekondo Titi, Mbonge, Mundemba and Bakassi...
Same category