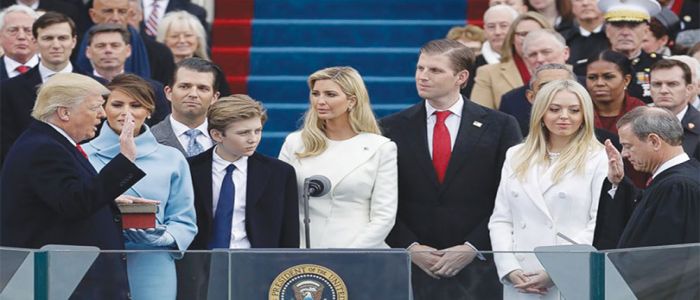 The new American President, Donald Trump, was sworn in on January 20 amidst protests.
If changes that have taken place in the world's first economy are anything to relay on, then the United States of America will not be the same in the next four years. Donald John Trump was on January 20, 2017 sworn in as the country's 45th President with a pledge to drastically change the country's way of doing things. He replaced Barack Obama, the first ever African-American to hold the position and who ruled the country for eight years (two terms of office).
In Friday's inaugural address, Trump pledged: "From this moment on, it's going to be America first. We will follow two simple rules: Buy American and hire American. Every decision on trade, taxes, immigration and foreign affairs, will be made to benefit American workers and American families," the BBC reported. Meanwhile, the new Head of State has already ordered Federal agencies to ease the "economic burden" of the health laws known as Obamacare. President Trump has vowed to move fast by using executive action before turning to Congress for the tough task of passing bills.
In his speech during the heavily-attended inaugural, Mr. Trump re-echoed his electoral campaigns slogans of, "We must think big and dream bigger, America will win again, winning like never before." His team has also overhauled the website of the White House, replacing Barack Obama's policies with his new agenda. The new administration lists only six issues on the website - energy, foreign policy, jobs and growth, military, law enforcement and trade deals. Following Trump's inauguration, demonstrations have been holding in the US and in some countries against his policies.
On inauguration day itself, protesters took to the streets in Washington, smashing windows of businesses and denouncing capitalism and the new President. Donald Trump has become the 45th President of the United States, thereby setting a number of records. However, he will follow the example of former California Governor, Arnold Schwarzenegger, by taking just a symbolic salary. Trump is 70, making him the oldest man in US history to assume the presidency. Ronald Reagan was 69 when he took office in 1981. He is the first billionaire President, worth about 3.7 billion Dollars (about FCFA 2,269 Billion).
Same category