School Reopening: Education Stakeholders Multiply Efforts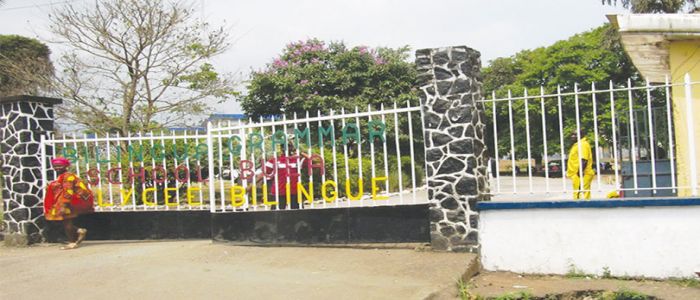 Both local administrative and traditional authorities have multiplied strategies to enable schools reopen in the South West Region.
The various strata of society in the South West Region are mobilising for school resumption today January 23, 2017 after close to two months of ghost schools. The latest efforts came from Regional educational authorities, traditional rulers and the administration.
Lately, the Divisional Officer for Buea , Wokam Paul convened traditional rulers of Buea and urged them to enable parents of their various villages to send their children to school. The meeting rose in the D.O's Office with the agreement that the various chiefs were to use Town criers and door to door approaches to get children out of their homes for school. Chief Johnson of Wokaka, on behalf of the traditional rulers, assured the D.O. of effective mobilisation in their villages. Last weekend, Govenor Bernard Okalia Bilai was on a wide-range campaign in Buea heading a panel made of South West Delegates; for Secondary Education, Apah Johnson, Basic Education, Motaze Dorothy, Vocatiomal Training, Atefor John and GCE Board Registrar, Humphrey Ekema Monono.
On his part, Governor Bernard Okalia Bilai called on the socio-political forces of the Region to mobilise pupils and students to classrooms beginning today, January 23 at 7:30 a.m. The Governor warned that, conclusions would be drawn, should anybody fail in his or her duty to enable school resumption. He advised the parents to accompany their children to school if they are claiming insecurity. The Governor called on partners of Education to fulfil their part by opening their schools because they took engagement with parents who have paid their children's fees but cannot attend school.
The Head of the Region added a political tone when he mentioned that if the Regional Leaders are truly in their support of President Paul Biya's leadership, they should comb the grassroots to send their children to school. The Regional Administrative boss urged parents to stop pretending about insecurity as the government was taking measures to protect students and pupils as well as detect those who may attempt to cause havoc.
On his part, the Registrar of the GCE Board reminded the parents that the GCE is written all over the national territory and that the exams must be organised this year. He recalled that the latest date for registration is January 27, 2017 and that parents should not miss the opportunity, so as to avoid a blank school year. There may not be any other extension for GCE registration, he insisted.
Same category