South-West : She Is 122 Years Old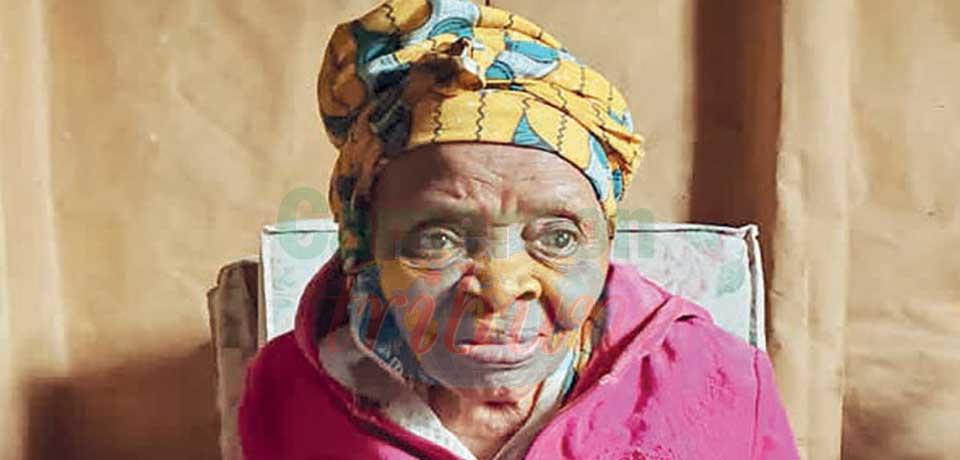 Inhabitants of Buea on March 8, 2022, possibly saw the oldest person in their community during festivities marking the 37th edition of the International Women's Day at Bongo Square. Her name is Limunga Rose Chie, 122-year-old and lives in her village, Bokwango in Buea. Bernard Okalia Bilai, South West Governor, was on that day marveled at her age as he handed her a recognition prize donated by South West Regional Delegation for Women's Empowerment and the Family headed by Sona Ediage Lucia.
When Cameroon Tribune team arrived at her Bokwango home at 2:18 pm on Sunday April 24, 2022, Grand Ma Limunga Rose Chie was savouring garri and soup unaided in her bed room. Some minutes later after finishing her meal, she inquired to know if the people who came while she was eating were still around. Anna Enanga Njie, aged 77 and her daughter-in-law, who is also her caregiver said Grand Ma Limunga's memory is still intact. She does not wear lenses, she speaks very well and hears well too though the speaker needs to be loud. Grand Ma Limunga Rose's delicacies are kwacoco and mbanga soup, rice and stew, and garri and okra. Her daughter-in-law said that when Grand Ma Limunga Rose was young she used to cook very spicy food and still has a taste of spiced food till date.
Enanga Njie Christiana, aged 63 and granddaughter to Grand Ma Limunga Rose, said her grandmother preaches the word of God to them from the Holy Bible. She will advise that they should avoid trouble at all cost and care for their husbands unconditionally. "Each morning when I arrive to take care of her she inquires if I have passed through my mother-in-law's h...
Same category