Spectacle : sur la route d'Armand Biyag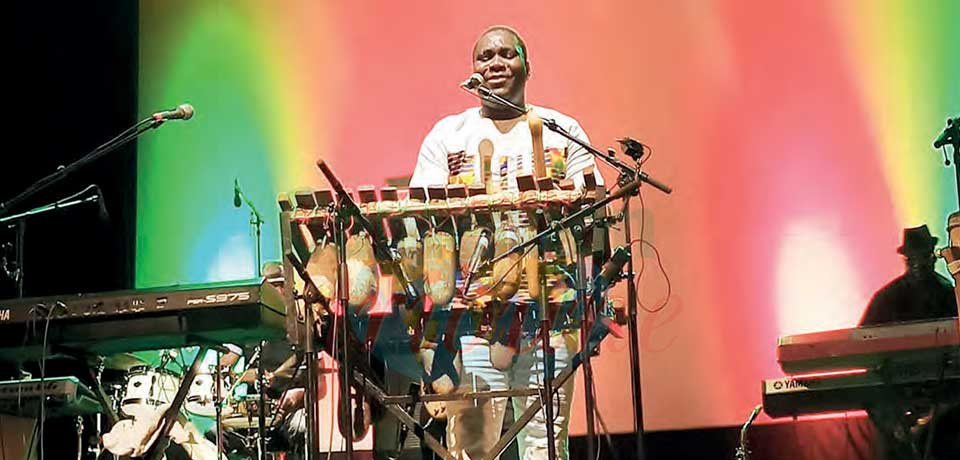 L'artiste camerounais a récemment présenté son dernier projet musical « Jam On the Road », à l'Institut français à Yaoundé.
Et si sa prestation live se révélait meilleure que son opus ? En voilà une crainte, que le public a susurrée, tant le spectacle offert par Armand Biyag était saisissant. Pour la présentation de son tout dernier opus baptisé « Jam on the road », l'artiste camerounais Armand Biyag a donné un spectacle le 19 mai dernier dans la salle de spectacle de l'Institut français du Cameroun, antenne de Yaoundé. Un projet musical, fruit de son retour de sa dernière résidence artistique. Cet album de 12 titres, dans une fusion de rythmes afro et occidentaux, permet de ressentir un plaisir procuré par tous ces instruments qu'il sait manier avec ardeur. Justement, c'est un bel hommage à Manu Dibango qui a été rendu au cœur de cette playlist. Un opus qui est en fait un partage de ses influences musicales. Plus qu'une œuvre musicale, cet album est un partage comme l'indique une partie de son titre : « Jam ». 12 pistes, qui diffusent une floraison de sonorités, de genres, de rythmes d'ici et d'ailleurs. C'est un véritable concentré de vibrations et de sensations émanant de son âme artistique, comme une résultante de ses immersions musicales à travers le monde.
En bassa'a (sa langue maternelle), français et anglais, l'artiste passe son message de partage. Au clavier, au xylophone, au tambour, Armand Biyag fait le tour. Le tour de rythmes émouvants auxquels se mêlent des...
Same category