South West : Hitch-free Take Off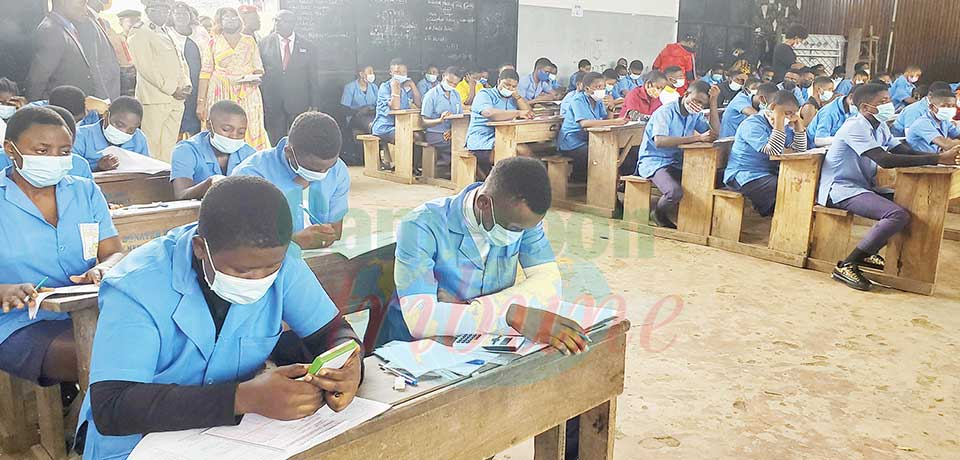 The examination that started yesterday nationwide is evolving without any worry.
The written phase of the Cameroon General Certificate of Education (CGCE) 2022 session started yesterday June 28, 2022 nationwide. Candidates at the General Education taking the Ordinary Level wrote Economics paper I (1½h) that started at 8:00 A.M and ended at 9:30 A.M, then Economics paper II (2 ½ h) at 1 P.M. At the Advanced Level section, Economics paper I (1 ½) and Geology paper I (1 ½) equally started at 8 A.M. Their paper II came up at 1 P.M and lasted for three hours. The Technical and Vocational Examination (TVEE), the Intermediate Level and Advanced Level, had Economics I and II as well on the same time allocation.
The candidates sitting the examination are stratified as follows. The CGCE Ordinary Level has 96,922 candidates, TVEE Intermediate Level 14,192, GCE Advanced Level 62,517 and TVEE Advanced Level 8,625 candidates. In total, there are 182,256 candidates taking the examination nationwide. The CGCE 2022 session has an improvement of 11,764 candidates compared to 2021 session that has 170,492 candidates. The Littoral Region has the highest number of candidates, 45,039 and North Region has the least number of candidates, 1,376.
Bernard Okalia Bilai, South West Governor accompanied by Dang Akuh Dominic, CGCE Board Registrar supervised the examination in Buea on day one. His team visited the Baptist High School Buea, Government Technical High School Molyko Buea and Bilingual Grammar School Molyko, Buea (B.G.S). He told the press that the examination started on a good note at 8:30 A.M across the region. BGS Molyko is host to four additional centers which are CCC Muea, Mu...
Same category