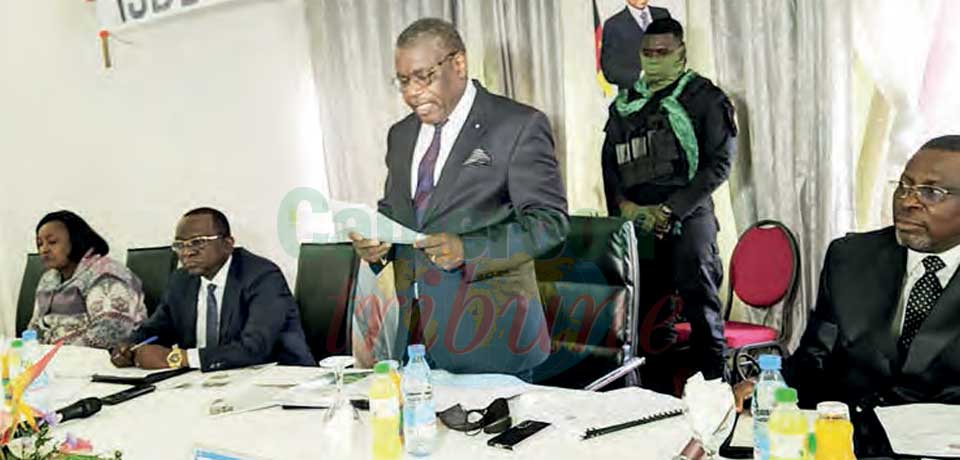 Gabriel Mbairobe, Minister of Agriculture and Rural Development, chaired the session saluting management for effectiveness on the ground.
Committee members of the Buea-based Agriculture Infrastructure and Value Chain Development Project (AIVDP) have saluted management's effort for increasingly empowering farmers in the fight against food scarcity in the South West Region. This was during their 5th committee session in Buea held on July 19, 2022, under the chairmanship of Gabriel Mbairobe who is Cameroon's Minister of Agriculture and Rural Development in the presence of South West Governor, Bernard Okalia Bilai. Dr. Bisong Ntui Ogork, AIVDP Coordinator, assisted the Committee and presented the agenda.
The members deliberated behind closed-doors on the agenda to verify and validate their quorum, define the overall AIVDP project orientation, review and approve the annual work plan for 2022, examine the audit report, and provide necessary corrective actions.
After deliberations, Minister Mbairobe spoke to the press echoing the Head of State, President Paul Biya's call to Cameroonians to produce what they consume and to consume what they produce. The Minister said the call was clearly manifested in important initiatives like the AIVDP project. He commended the efforts of AIVDP Coordinator and his team on the field and to have organized this Steering Committee meeting in respect of the rules and regulations.
The Agricultural Infrastructure and Value Chain Development Project (AIVDP) focuses on exploiting the agricultural sector to generate income and create jo...
Same category