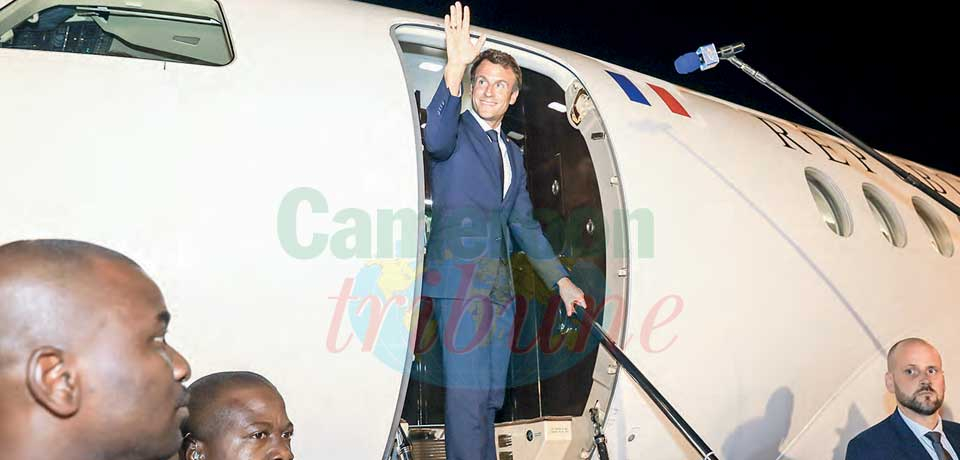 President Emmanuel Macron was accorded a wonderful farewell ceremony at the Yaounde-Nsimalen International Airport on July 26, 2022.
Indeed, bilateral relations between Cameroon and France have again been strengthened, going by the hectic farewell ceremony that was given the French President Emmanuel Macron after a two-day working visit in the country. The Yaounde-Nsimalen international airport was full into capacity as military officers and civilians turned out to bid farewell to the Statesman.
The leader of the French Republic was welcomed at the airport by the Prime Minister, Head of Government, Joseph Dion Ngute, who after salutations, led Mr. Macron to the VIP lounge. After a brief exchange, the PM then accompanied the French President to the foot of the plane where the former handed the latter a photo album that contains the memories of all his events in Yaounde. Before finally boarding the aircraft, President Macron, waving at the crowd expressed gratitude in the words translated from French, "Thank for the honour, I will never forget it."
Opposite the entrance to the VIP lounge where the French President had brief talks with the Prime Minister, Head of Government, Joseph Dion Ngute before boarding the presidential aircraft, Airbus 330, were dance groups from far and wide. True to the cultural identity of Cameroon, there were dance groups dressed in the traditional attires of the different cultural zones of the country. Equally present and dancing to the admiration of the French President was a delegation of the Cameroon People's Democratic Movement (CPDM) of Mefou and Afamba. All in all, the President o...
Same category