Curbing Rising Cost of Living : Gov't Presents Resilience Measures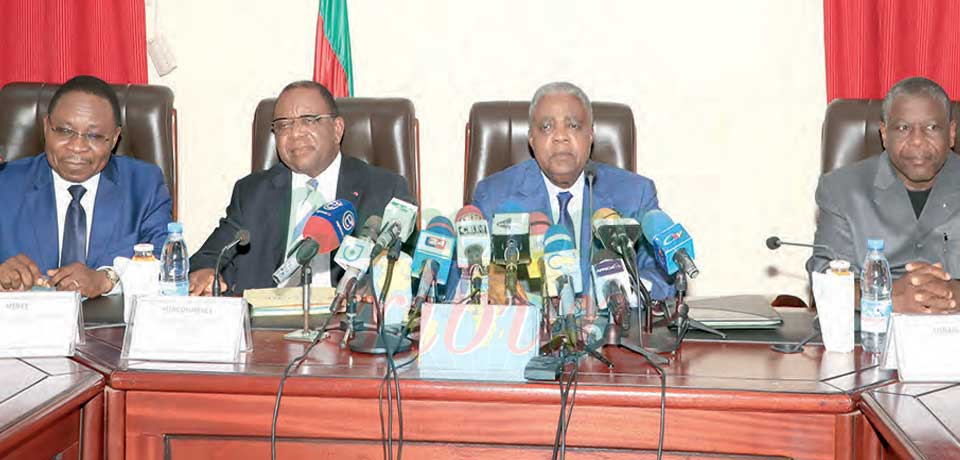 Four members of government on August 10, 2022 outlined actions adopted to render goods affordable to Cameroonians in the face of global challenges.
International and natural happenings which have had an impact on the supply of basic communities such as the outbreak of the Covid-19 pandemic, the Ukraine-Russia conflict and climate change, have greatly affected economies, Cameroon inclusive. In the face of these global challenges, the government of Cameroon has adopted several measures aimed at maintaining the purchasing power of the average citizen. The measures were presented in a press conference on August 10, 2022 jointly offered by the Ministers of Communication, Rene Emmanuel Sadi, Trade, Luc Magloire Mbarga Atangana, Water Resources and Energy, Gaston Eloundou Essomba and Agricultural and Rural Development, Gabriel Mbairobe. The Minister of Scientific Research was represented by her Inspector General.
Government, according to the various presentations has three main actors in reducing the cost of living for the population and this include subvention of certain products, reduction of customs duties (tax exemption) and administrative procedures. As concerns petroleum products, which are the highest beneficiary of State subvention, it was revealed that billions are spent monthly to maintain prices at a reasonable rate. For example, in the month of July, government spent FCFA 110 billion on fuel and cooking gas subvention. Statistics from the Ministry of trade in the last seven months indicate the public treasury suffered heavy expenses in the following order; January-FCFA 21 billion, February-FCFA 35 billion, March-FCFA 42 billion, April-FCFA 67 billion, May-FCFA 70 billion, June-FCFA 84 billion and July-FCFA 110 billion. With the case of cooking gas for instance, government subsidised by paying FCFA 7,500 for consumers of the 12kg bottle. This implies that the initial price is FCFA 14,000 but government subsidies and make the consumer only pays FCFA 6,500. In total, an estimated 55 per cent of government's investment budget is being spend on fuel related products subvention. ...
Same category