Cameroon-Vietnam : Ambassador Presents Diplomatic Credentials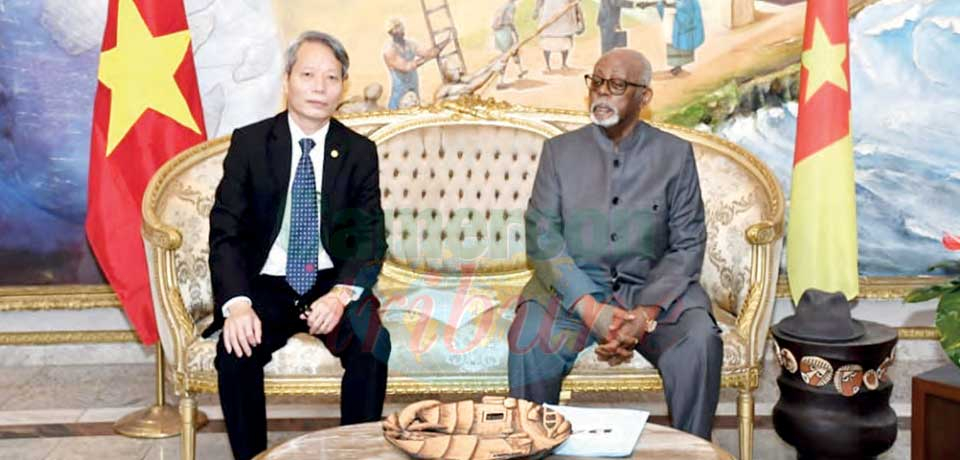 Luong Quoc Thinh presented his accreditation documents to the Minister of External Relations, Mbella Mbella on August 9, 2022.
The newly designated Ambassador of Vietnam to Cameroon has presented the advance copies of his lettres of credence to the Minister of External Relations, Mbella Mbella. This was during an audience the Minister granted to the Vietnamese diplomat on August 9, 2022.
Luong Quoc Thinh in principle is Ambassador Extraordinary and Plenipotentiary of the Socialist Republic of Vietnam to the Federal Republic of Nigeria, concurrently accredited to the Sierra Leone, Ghana, Togo, Cameroon, Chad and Liberia. He is therefore resident in Nigeria. Prior to his appointment, he was between 2012 and 2020, the Deputy Director-General, Department of Personnel and Organisation at the Central Commission for Foreign Relations of Vietnam. For two years (2010 and 2012), Luong Quoc Thinh was Member of the Standing Committee, Chairman of the Municipal Party Inspection Commission of the People's Council of the Thai Binh Municipality in the Thai Binh Province.
Born in November 1962, the Vietnamese head of mission is a holder of a bachelor of Economics and has worked most of his professional life in the Thai Binh Province of Vietnam. He began his career in 1985 as an official in the Post and Telecommunications Materiel Factory at the General Department of Postal Services in Thai Binh Province, an institution he worked with for two years. Between 1988 and 1989, he se...
Same category