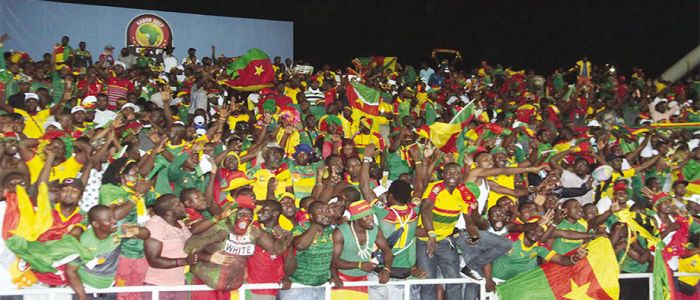 Fans from Gabon, France, Cameroon and other neighbouring countries travelled to Libreville to cheer the Lions to victory.
Cameroonian fans in Gabon and elsewhere have intensified their support for the National football team. Fans from Gabon, Cameroon, France and other neighbouring countries thronged the Stade de L'Amitié Sino-Gabonese in Angondjé, Libreville to watch the final between the Indomitable Lions of Cameroon and the Pharaos of Egypt. Most of them travelled by road two days before to secure accommodation in the town while others travelled by air. Among the prominent Cameroonian fans that came to Libreville to watch the Lions was former Indomitable Lions striker, Samuel Eto'o Fils. He came in yesterday from Turkey where is plying trade.
In Libreville, fans began mobilising for the final after the Lions qualification last Thursday February 2, 2017 in Franceville when they beat Ghana 2-0 in the semi-final. Several groups of Cameroonians fans arrived in Libreville yesterday by air to witness the final. "Fans in Cameroon asked for 10,000 tickets from CAF," our source said. Donald Fonke, a fan based in Libreville, told Cameroon Tribune that preparations had been going on in the different associations in Libreville. He said the groups have decided to unite to give the Lions the support and encouragement they need.
Cameroonian fans in Gabon had the support of the authorities in the country. At the Cameroon Embassy in Libreville yesterday February 5, 2017 hundreds of Cameroonians queued up at the entrance waiting anxiously for tickets. Patrice, another Cameroonian based in Libreville said the embassy gave out free tickets to fans to enable them have access to the stadium. Martin Kengne, a Cameroonian based in Franceville said he arrived in Libreville two days before and went to the embassy yesterday to get his ticket for the match.
The Mascot of the Indomitable Lions, Ngando Pickett, and his band followed the Lions from the beginning of the competition. Together with the other groups they cheered the Lions to victory with drumming and dance. Cameroonian fans won the hearts of spectators through their exceptional way of supporting their team.

Same category