Mount Febe Hotel: Ecstasy Characterises Lions Arrival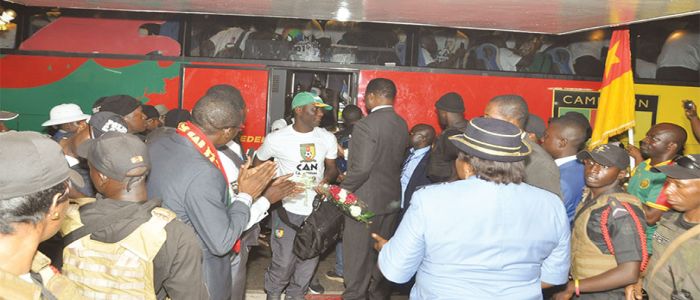 The arrival of the African champions at their temporal abode was greeted with excitement by the public.
It was exactly 8:42 pm Monday 6 January that the bus transporting the Indomitable Lions of Cameroon alighted at the doorway of the Yaounde Mount Febe Hotel. The arrival of the 2017 Africa Cup of Nations champions at their temporal abode was characterised by excitement from the public that turned out to welcome the heroes.
Officials of the Ministry of Sports and Physical Education, security forces at Mount Febe Hotel resisted the long day wait given that the Lions were initially announced to arrive in Cameroon in the morning. Even though the wait was long, there was no despair as the Lion's 2-1 victory over the Pharaohs of Egypt at the finals of the 2017 AFCON in Gabon animated discussions at the hotel lobby. The Regional Delegate of Sports and Physical Education for the Centre, Bernard Jacques Phillippe Obama who coordinated the sub-committee for mobilisation had mobilised staff of his delegation and youth of the Ministry of Youth and Civic Education alongside the hotel authorities to give the heroes a hilarious welcome.
The youth lined up at the entrance to the hotel carrying flags while the staff of the Ministry of Sports and Physical Education simply applauded as the players and the technical team walked into the hotel. The high-handedness of security forces however prevented the eager public, photographers, TV Cameras as well as anxious crowd to get a glimpse of the Lions. Some of the players immediately went into their rooms while a few others went to the restaurant which was out of bounds for the public. Among the officials that accompanied the Lions to the hotel was Roving Ambassador, Roger Milla.
Controls mounted at the Gulf Junction and the Parcour Vita area leading to the Mount Febe Hotel prevented thousands of fans especially excited youths from reaching the premises of the hotel.
Same category