Youth Groups Demonstrate Patriotism in Buea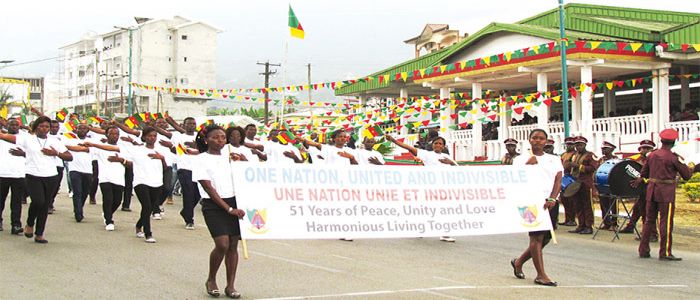 Participating pupils, students and youth groups maintained their enthusiasm.
The Cameroon flag and President Paul Biya's effigy flew high at the Buea ceremonial ground popularly known as Bongo Square last Saturday February 11 during activities marking this year's youth day. Two musical bands from the Buea penitentiary school and the Bilingual Grammar School Molyko sounded the marching songs in selective decibels. Youth groups, pupils and students from academic and professional Institutions marched past in their numbers apparently in defiance of what had gone round as threats of boycott in the backdrop of Teachers' and Lawyers' strikes resulting in ghost towns and ghost schools.
Governor Bernard Okalia Bilai's arrival at 10:25 am kicked off the event in Buea. The youth and the dignitaries secured some 30 minutes to listen to a re-broadcast of the Head of State's message to the youth, in both French and English versions. In added enthusiasm, the next 40 minutes were spent for march past with such Institutions like Bilingual Grammar School Molyko, GBHS Muea, GTHS Buea, Macbicol, and Bilingual School Buea marching to the rhythms of joy and hope.
The University of Buea (UB) came out with assorted billboards denouncing violence and ghost schools, calling for stronger unity in Cameroon and advocating for dialogue as a means of solving problems. "Students today, leaders tomorrow", one of their billboards read. The UB displayed the various Faculties in their black suits. Spectators in the likes of traditional rulers, parents, administrative and school authorities who watched the event from the grand stand rained applauses to the Buea Rehabilitation Institute for the Blind whose students marched past coordinated with white canes.
Same category