Cameroon-Italy: exploring New Cooperation Avenues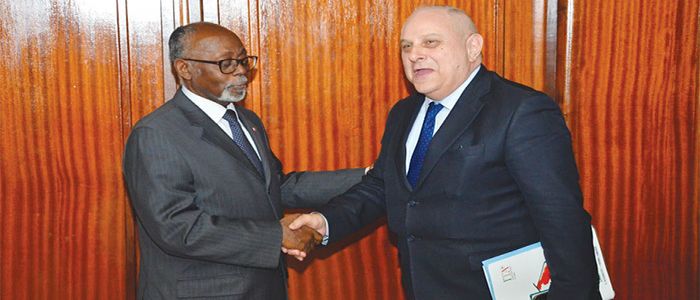 External Relations Minister, Lejeune Mbella Mbella and Italy's Vice Minister of Foreign Affairs, held talks in Yaounde on February 14, 2017.
Ties between Rome and Yaounde are taking a different shape as new avenues of cooperation are being explored. The visiting Italian Vice Minister of Foreign Affairs in charge of International Cooperation, Mario Giro and Cameroon's Minister of External Relations, Lejeune Mbella Mbella, on February 14, 2017 in Yaounde held discussions to reinforce ties between both countries.
The meeting enabled both officials to examine bilateral cooperation especially new areas of economic cooperation. According to the Italian official, his visit to Cameroon is in accordance to the engagements taken during the State visit of the Italian President last year. Italy is currently participating in PROMOTE 2017 with 80 enterprises while the Cameroon-Italy Business Forum on February 15, 2017 provided a platform for exchange between the Cameroonian public and private sectors on the one hand and the Italian delegation on the other. Apart from capacity building in the area of education, Mario Giro and Lejeune Mbella also discussed Italian support in the sectors of renewable energy, agro and wood industries. The Vice Minister was accompanied to the Ministry of External Relations by the Italian Ambassador to Cameroon, Samuela Isopi.
Same category