Agri-business Companies Seek Visibility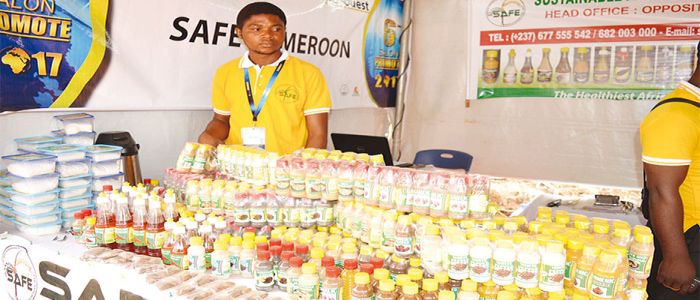 The PROMOTE 2017 expo ground in Yaounde enables companies to liaise with business persons.
Cameroon's cash crops like cocoa, coffee, cotton, bananas and palm oil as well as food crops like plantain, cassava, corn, millet and sugar cane are in the spotlight at the Yaounde Conference Centre where unprecedented crowds are visiting stands at the International Exhibition for Enterprises, SMEs, and Partnership, PROMOTE 2017. Most of the food and cash crops are displayed in processed form, with agri-business companies determined to make more customers, expose their trade mark and exchange business contacts for posterity. Most of the processed foods have shown signs of strength, but are yet to be marketed nationwide and internationally, exhibitors admit.
Sustainable Agro-Foods Economics, SAFE, with its healthier African foods, is gradually making a name, with customers and business partners ready to discover and distribute its processed garlic, ginger, bush pepper, coconut powder alongside seasonings and vegetables. Reducing the stress in cooking and better food preservation is the innovation making the agro-industrial company to win the hearts of customers. UTRA Company on the other hand focuses on cassava processing into by-products like garri, wheat and biscuits, Luc Belinga said, explaining that the presence of the start up at PROMOTE was to partner with supermarkets for distribution. Royal Miel, in existence for close to a decade, produces six types of honey. It is seeking communication partners and distributors for its Rainforest, Mount Cameroon, Grass field, Oku White Honey, Mount Mandara and Adamawa honey.
Rice producing companies, SEMRY and UNVDA have also set up stands, informing visitors and consumers that Cameroon boasts quality natural rice. The stands showcase natural white rice, pre-cooked and upland rice with resource persons stressing that PROMOTE expo offers them the rare opportunity to open up to the world. UNVDA's Mathias Mawo says they have already struck a deal with some Japanese to add value to the Ndop Rice brand - from production to marketing. Both SEMRY and UNVDA rice producers say they are looking at possibilities of boasting production for Cameroon to be self-sufficient.
Same category