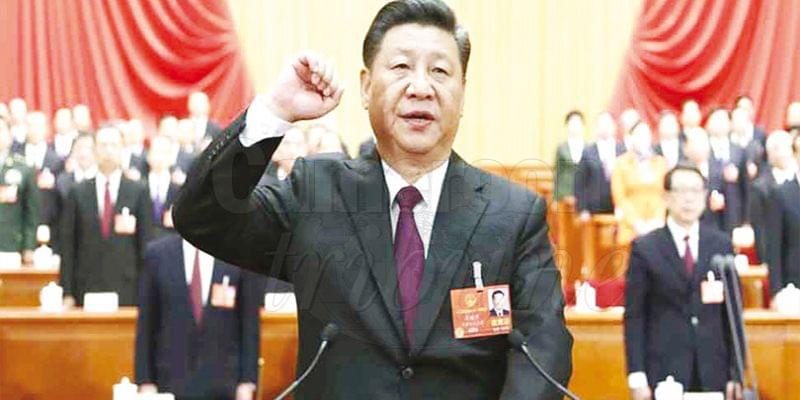 President Paul Biya was amongst foreign leaders who sent him messages of congratulations. Xi Jinping was on Saturday, March 17, 2018 re-elected President of the People's Republic of China, PRC. He was also re-elected Chairman of China's Central Military Commission following a unanimous vote by the 2,976 deputies during the fifth plenary meeting of the ongoing first session of the 13th National People's Congress, NPC), in the Great Hall of the People, Beijing.
rnrn
Immediately after his re-election by China's top legislature, 64-year-old Xi took a public oath of allegiance to the Constitution, becoming the first Chinese President to do so upon assuming office. Oath-taking is a part of amendments to the Constitution adopted during the ongoing parliamentary session. The 1982 Constitution was revised to meet with the demands of today's society, the most famous change being the removal of the presidential term limit and the addition of Xi's Thought on Socialism with Chinese Characteristics in the New Era.
rnrn
Cameroon's President, Paul Biya and other foreign leaders sent messages to Xi Jinping on Saturday to congratulate him on his re-election. The message was run on State media, CGTN, China Global Television Network a few hours after the NPC made its choice and in the Sunday edition of China Daily. President Biya wished Xi success in fulfilling the noble mission, and said he would like to work with him in strengthening the unique friendship and cooperation between Cameroon and China.
rnrn
Five years ago at the fourth plenary meeting of the first session of the 12th NPC, Xi was elected President of China and Chairman of the Central Military Commission, CMC. In October 2017, he was elected General Secretary of the Central Committee of the Communist Party of China, CPC and appointed Chairman of the Central Military Commission. Earlier in 2007, Xi Jinping joined the central leadership as a member of the Standing Committee of the Political Bureau of the CPC Central Committee. Xi has carried out many reforms including "Chinese Dream."
Same category