North West : Over 27,000 Candidates Begin Writing GCE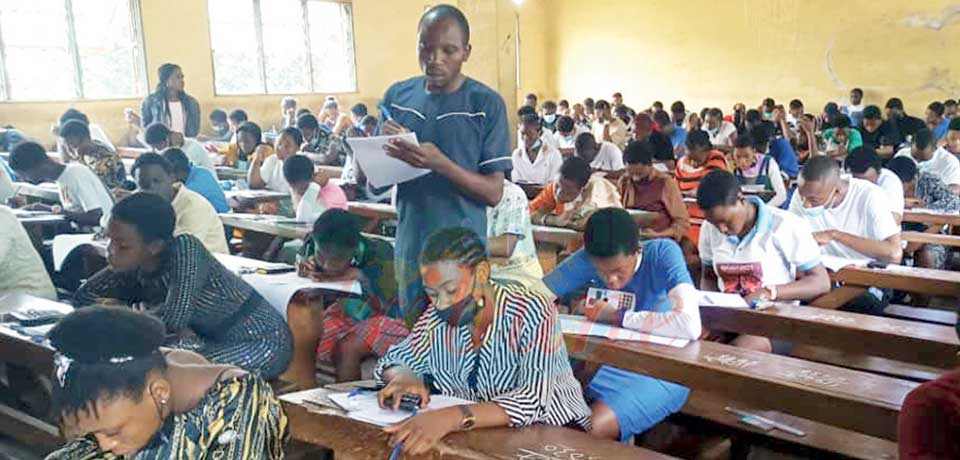 The Region has registered an increase of 7.2 per cent compared to the 2022 session.

Students who registered to take part in the end year General Certificate of Education Examination (GCE) in the North West have begun the written part. The atmosphere was calm and serene on Tuesday May 30, 2023 in the various writing centres visited by Cameroon Tribune in the regional capital, Bamenda. A' Level candidates started with Economics and O 'Level with Geology.
In GBHS Down Town Bamenda, it was revealed that the campus was accommodating four other centres including GHS Nitop, GHS Abango, Down Town External and Nitop External with a total of 549 candidates sitting for both Ordinary and Advanced Levels. In nearby PCHS Mankon it emerged that the campus was accommodating 10 centres with about 1, 000 candidates sitting for both levels. Whereas in GBHS Bamendankwe, it is accommodating four centres with over 900 candidates sitting for Ordinary and Advanced Levels.
Statistics from the Regional Delegation of Secondary Education with Ngwang Roland at the helm indicated that 12, 926 candidates registered for the GCE Ordinary level and 8,267 candidates registered for the Advanced level giving a total number 21,196 candidates for GCE General. The figures, according to Tsemogne nee Donkou Njepnou Slyvie, the Subdirector of Examinations and Certifications, has witnessed an increase of about 6.5 per cent against the number they had in the 2022 session.
Whereas for the Technical and Vocational Education Examination, the region registered 3,570 candidates for the Intermediary Level and 2,329 candidates registered for t...
Same category