Rice Production: Call To Reverse Negative Trends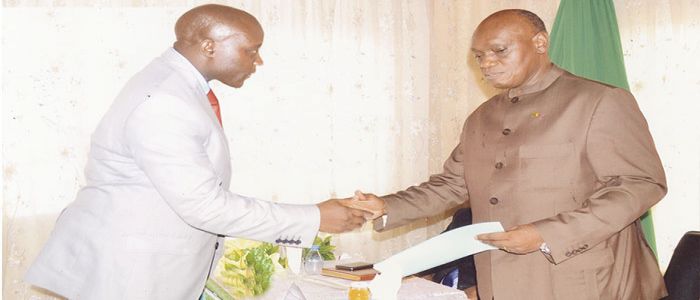 Minister Henri Eyebe Ayissi of Agriculture charges new G.M of UNVDA, Eric Andanfung to increase rice production and give visibility to actions.
Agriculture and Rural Development Minister (MINADER), Henri Eyebe Ayissi, has stressed the role of the upper Nun Valley Development Authority (UNVDA) in the agricultural development strategy of the nation. It is all about the challenge to increase the national production of rice and check the negative trade balance, resulting from high level of importation, improve the level of food security, increase agricultural production and give visibility to UNVDA's actions.
That was the message which visiting Minister Henri Eyebe Ayissi had for the new General Manager of the UNVDA in Ndop, Ngoketunjia Division on 9th February, 2017. The event was the commissioning at Eric Akongui Andanfung as the new General Manager on the strength of a 9 February 2017 decision of the President of the board of directions of UNVDA, Tikela Kemone. The Minister's special message at the event stressed the fact that change at the helm of the agro-industry is intended to enhance rice production at a time when production remains below expectation while national demand keeps increasing. It was against this backdrop that the Minister challenged the new management team to introduce strategies to improve results, reduce dependency, consolidate food security, alleviate poverty and impact the lives of farmers. Eric Andanfung was charged to monitor ongoing projects by the Japanese government, open more access roads, proceed with the rehabilitation of irrigated areas and follow up actions under the government's three-year emergency plan. The Minister prescribed team spirit and positive synergy with board members and staff as ingredients to success.
Eric Andanfung, the new man to chart the way forward at UNVDA committed to deliver when he stated preparedness to meet the prescriptions of the Head of State for Cameroon's agriculture to emerge by 2035. He saluted board members for endorsing his appointment and promised to be positive with synergies to improve output and performance.
Farmers of the 39-year-old agro-industry are barely out of the harvest season. The Director of Agricultural Production, at UNVDA, Yonghabi Jacob told CT that 18,823 metric tons were harvested from the targeted 20,000 tons. On the ground, UNVDA is expected to help matters with the acquisition of farm and civil engineering machines. UNVDA is also into seed development with testing of rice seed for adaptability. A country elevator (new rice mill) is also expected to be planted in the neighbourhood of Babungo to enhance the rice hauling by 8-10 tons per hour, up from the old mill that currently hauls about 3.5 tons per hour. It is all about increasing production and reducing the importation of rice which takes away lots of hard currency. Eric Andanfung succeeds Chin Richard Wirnkar whom Minister Henri Eyebe Ayissi saluted for outstanding and faithful services rendered since 18th August 2011.
Same category