Letters Of Credence : Presentations Continue At State House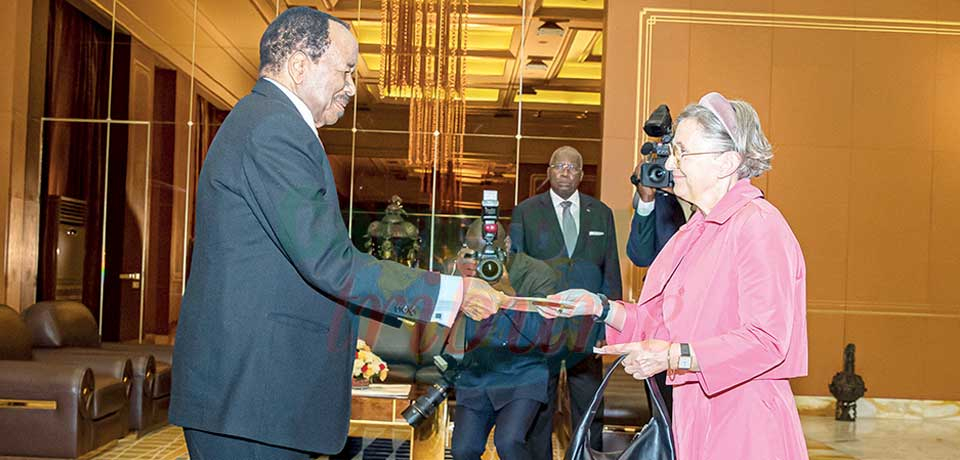 Ambassador-designates from Germany, Great Britain and Northern Ireland, Switzerland, Italy, Japan and India took turns to disclose the contents of their accreditation documents and handed them to President Paul Biya yesterday June 5, 2023 in a solemn dipl
President Paul Biya had yet another busy day yesterday June 5, 2023 as he accredited six Ambassadors sent to Cameroon by their countries. After Equatorial Guinea, South Korea, Belgium, Tunisia and Turkiye last Friday, yesterday was the turn of Ambassador-designates from Germany, Great Britain and Northern Ireland, Switzerland, Italy, Japan and India to present their Letters of Credence to the Cameroonian Head of State at Unity Palace.
The solemn ceremony from the courtyard of the State House to the office of President Paul Biya gave the diplomats the opportunity to gain full recognition as their countries' representatives in Cameroon. For, they went to the State House as Ambassador-designates and left as Ambassadors Extraordinary and Plenipotentiary, invested with absolute powers to fully represent their countries. This, after presenting their Letters of Credence: Documents calling back their predecessors and sending them to Cameroon.
Even before they could make their entry into the State House in quick succession from 2 pm, the stage was already fully set for the high diplomatic ceremony. The red carpet rolled out and the guard of honour mounted comprising a detachment of the Presidential Guard made up of the music company, the flag of the Republic and its guard, a company of honour with three sections, and a guard of honour with sabres. All these under the command of Navy Commander, Martin Echu Tanyi. Coupled with a well-organised State Protocol under the authority of its Director, Simon Pierre Bikele, all was in place for a memorable ceremony.
As such, when Corinna Fricke, Ambassador-designate of the Federal Republic of Germany made her entry, the platform was ready as she inspected the Guard of Honour and respected Cameroon's national flag and anthem. The Music Band of the Presidential Guard animated the exercise. With the tradition respected, the diplomat was led up to an adjacent room of the office of the Head of State where she waited for other diplomats. Christian Dennys-Mcclure, High Commissioner-designate of Great Britain and Northern Ireland; Martin Strub, Ambassador-designate of Switzerland; Filippo Scammacca Del Murgo, Ambassador-designate of the Republic of Italy; Nozomu Takaoka, Ambassador-designate of Japan and Anindya Banerjee, High Commissioner-designate of India followed the same pattern and each in his o...
Same category