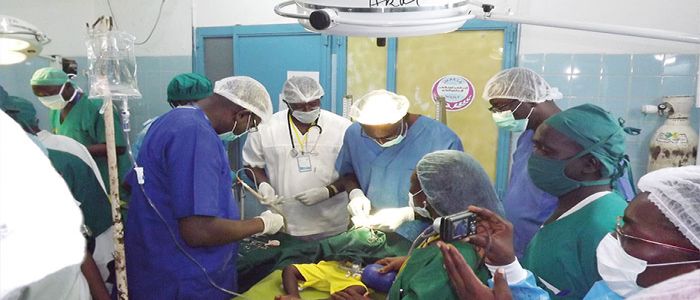 Hier grand malade de nos structures sanitaires, le service est aujourd'hui aux petits soins. Pour le plus grand bien des usagers
Mercredi 10h. Au Centre des urgences de Yaoundé (Cury). Ce n'est pas vraiment la grande affluence. En arrière de la cour, les patients, sous un chapiteau, attendent patiemment d'être reçus par les médecins, selon leur ordre d'arrivée, discipline oblige. Dans le grand hall, quelques-uns sur des fauteuils roulants, regagnent qui, sa chambre d'hospitalisation qui son domicile après consultation, sous le regard du personnel médical. Derrière un paravent, une malade, sur son lit, est l'objet de toutes les attentions du corps médical. Son cas, sans être vraiment gravissime, préoccupe. Dans les étages supérieurs, c'est la même ambiance de ruche, avec dans les couloirs des patients et/ou des usagers attendant d'être servis.
D. Vivien, en service au Cury et retrouvé à l'accueil est formel : « L'amélioration de la qualité de service est palpable. Le corps médical intervient en fonction des cas, et fait tout son possible pour satisfaire les plus touchés. Priorité est donnée aux soins avant toute autre considération, même si, il faut le reconnaître, nombre d'entre eux sont indigents et ne reviennent pas payer. » Indigents, le mot est lâché. Celui-là même qui a fait en sorte, il y a quelque temps encore, que certains malades étaient abandonnés à eux-mêmes. Faisant assimiler nos services des urgences à des mouroirs. Désormais, on soigne d'abord et on gère les problèmes financiers, quand il y en a, après. Le son de cloche est sensiblement le même au CHU. Là aussi à 11h on entre la course dans les dédales du sous-sol où se trouve le service des urgences, patients et usagers sont aux petits soins. Le chef de service, sollicité, est en salle d'opération. Urgence oblige. Des collaborateurs approchés n'hésitent pas : « La philosophie du service, c'est de s'occuper d'abord des patients. Pour l'argent, on verra plus tard et en plus ça ne dépend pas de nous.» Répartition des tâches oblige.
Tout malade –indigent ou pas- qui arrive est d'abord pris en charge, puis formellement identifié (nom, numéro de la carte nationale d'identité, contact téléphonique), famille et/ou relations aussi. Objectif, s'assurer que le patient, une fois pris en charge offre toutes les garanties pour payer plus tard. Et ce sont les services sociaux des hôpitaux qui s'occupent de ce volet. Résultat, la dette des patients, qui a failli, par exemple, plomber les efforts des pouvoirs publics au Cury, sans avoir été apurée, tourne aujourd'hui autour de 70 millions de francs. Supportable. Mais des efforts doivent encore et toujours être faits pour la ramener à sa plus simple expression. Sur son fauteuil roulant, N. Donatien, accidenté de la route il y a quelques semaines, trouve la formule « gagnant-gagnant » pour toutes les parties, et surtout « pratique » pour les plus démunis. Une nouvelle approche encouragée par les pouvoirs publics, et que tout un chacun devrait s'approprier malgré le résiduel de « mauvais payeurs ».
Dr Bonaventure Hollong: "Some People Do Not Respect Their Engagements"
Deputy Medical Adviser, Yaounde Emergency Centre
How does the hospital manage the numerous bills of patients who receive treatment without payment?
After the directive of the Minister of Public Health on receiving and handling patients, nothing much has changed at the Yaounde Emergency Hospital. A lot of people still owe the hospital and the rule is that we have to save life before payment. That is why when someone is brought to the hospital within the emergency barometer, he is given treatment first before payment. It is unfortunate that people continue to sign engagements that they do not respect. The debt of the hospital keeps increasing. Only those with insurance try to pay their bills after treatment. However, our obligation is to treat patients before payment. We do not have a means to put pressure on patients to pay their bills after treatment. Amongst ten patients, only one can come after treatment to pay his/her bills. Until date, we have over FCFA 75 million as money patients need to pay to the hospital. We count on government subvention and partners to ensure the proper functioning of the hospital.
Do patients cooperate when it comes to buying drugs before treatment?
Yes. But initially, many people felt that all health care given at the hospital was free. In fact people evaluated their health care and determined that it needed urgent medical care. But with time, they are beginning to understand that it is not so. The hospital has sensitized people to understand that the severity of any health problem is determined by a medical team. However, at the hospital, emergency cases are classified into five sections. We have a barometer at the hospital which enables us to priorities emergency health cases from severe-urgent intervention to less-severe, non-urgent cases. So when people come to the hospital, those who fall in the first and second two emergency cases are given immediate medical care without asking for any money. The financial department comes in later to recover the money. Those who fall under the third category can be given care at the hospital. But those who fall under the fourth and fifth categories are not supposed to come to the hospital but if they come and insist to be treated, we provide the health care needed upon payment of their bills.
Do many people still visit the hospital for healthcare?
The influx of patients into the hospital keeps increasing unlike when the hospital was officially opened. As time passes, people get to know that the hospital exists and because they are sure of receiving proper medical care, patients keep increasing in their numbers.

Brenda YUFEH NCHEWNANG-NGASSA

Same category