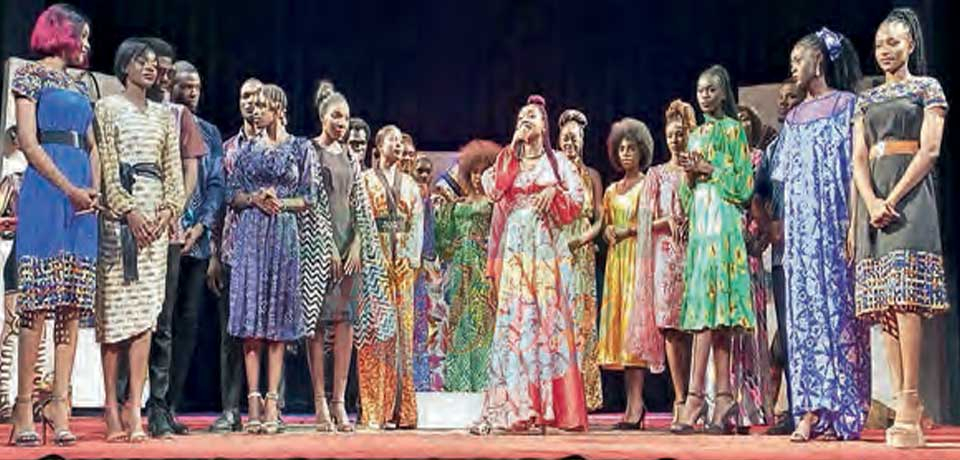 The young artist presented her new collection, Queen collection at the French Institute of Cameroon, in Yaounde on September 18, 2023.
An almost full hall, lights off, spotlights on the podium, a concentrated audience. So is the atmosphere that reigned on September 18, 2023 at the French Institute of Cameroon in Yaounde where a fashion show took place. For this month's designer, the French Institute of Cameroon proposed to the public, Queen Collection by Gaga Fashion. During the fashion show, Gaga Fashion presented her collection in three phases; Queen one, Queen two and Queen three. Queen one is made up of accessories to accompany or complete women's outfits. These accessories are handbags and waist belts, made up mostly of loincloth fabric. "The aim is to show that women can bring a particular touch to their everyday look while staying natural", explains Gaga Fashion. Queen two proposes women outfits made up of dresses that can be worn on any occasion. Queen three on the other hand presents shirts and pairs of trousers made for men. The public was particularly surprised by the touch she gave to all the dresses of the collection. "The fashion parade was really beautiful. Seeing that we can be dressed so well with so simple outfits is fascinating", says Noelle Ada, member of the public for the fashion show.
Gaga Fashion, her real name Gaelle Mouadje, is a young Cameroonian woman who decided to enter into the fashion world. Biochemist by training, she has been for years now passionate by everything concerning fashion. She began in 2017 by launching he...
Same category