Polio : Over 1,000,000 Children Vaccinated In Centre Region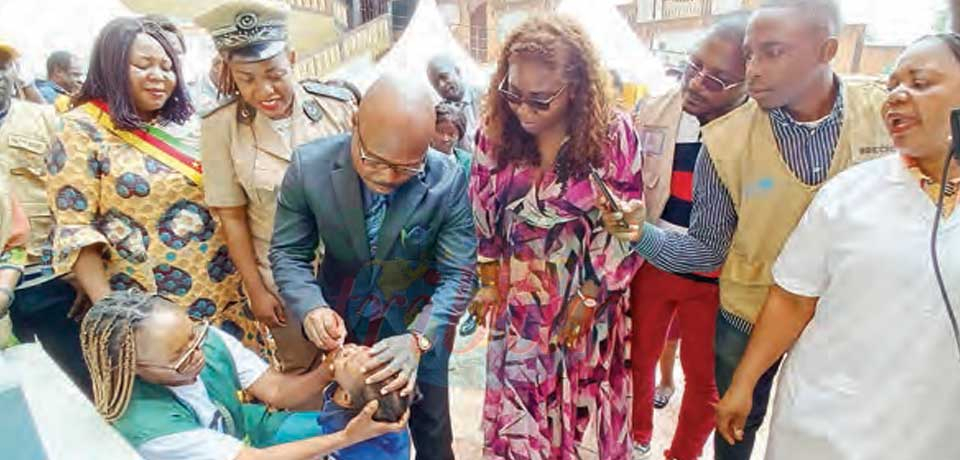 The routine campaign was launched by the Secretary General of the Centre Governor's Office on Friday September 22, 20223.
Some 1,000,000 children between the ages of 0-59 months over the weekend received two drops of the vaccine against polio in the Centre Region. The kick-out polio campaign was simultaneously launched in the Centre, Littoral, North-West, West, South and South-West Regions on Friday September 22, 2023. The Secretary General of the Centre Governor's Office, Simon Ghislain Estil, launched the campaign at a private primary and secondary school in the Mendong-Simbock neighbourhood in Yaounde.
While launching the campaign, Simon Ghislain Estil called on parents to be responsible for the future of their children by ensuring that they are protected against the polio virus which results to paralysis. He urged parents to open their doors to vaccination teams or take their children to any vaccination post and should not adhere to fake messages on social media which for some time now have tried to discredit the importance of vaccines.
Since June 2023, the CDC Atlanta laboratory confirmed 5 type 2 poliovirus variants in environmental surveillance simples in the Centre region. Four at the "Carrefour Poubelle Bar" located at the Mvog-Ada Health District and one at the "Derrière Palais des Sports" located in the Cité Verte Health District. With such an information, the Centre Regional Coordinator for the National Immunisation Programme, Dr Brice Edzoa said this signalled an epidemic situation. Hence, the need for an urgent vaccination campaign against polio. The curr...
Same category