North West : Regional Assembly Rewards Academic Excellence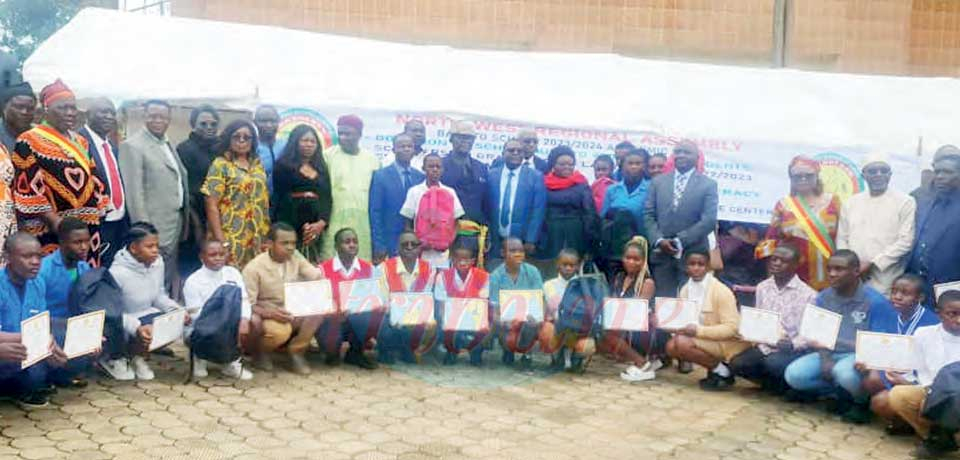 The institution on September 22, 2023 donated didactic materials, scholarships and other gestures to boost schooling in the region this academic year.
The North West Regional Assembly, true to its tradition of encouraging and boosting education in the region, once more on September 22, 2023 organised a historic back-to-school 2023/2024 academic year in the North West Regional Delegation of Secondary Education in Bamenda.
The event goes into the annals of history as one in which the Regional Assembly donated school kits consisting of school bags, books and other didactic materials to 2,000 needy students in the North West. The Regional Assembly also offered scholarship grants to 100 laureates of the 2022/2023 certificate examinations in the secondary school sector, donated didactic materials to 30 Literacy Centres in the region and equally gave subsidies to Inclusive Secondary Education Centres.
Speaking during the heavily-attended event, the President of the North West Regional Assembly Professor Fru Angwafo III explained that every individual in the region has a role to play to create an enabling environment for learning, building and development. Regretting that the security crisis rocking the North West and South West Regions has for seven years negatively affected education, he stated that, "We are trying to catch up with lost time. We are trying to catch up with lost opportunities. The Regional Assembly took deliberations to see how we can help all sectors of the community." Concerning the reward of excellence in certificate examinations, he said it will continue, stating that the rewarded students will not only go home with money but also with certificates as they have been inducted into the North West Honours Roll with subsequent advantages.
The Secretary General...
Same category