Promoting Peace : Youths Sharpen Contribution Skills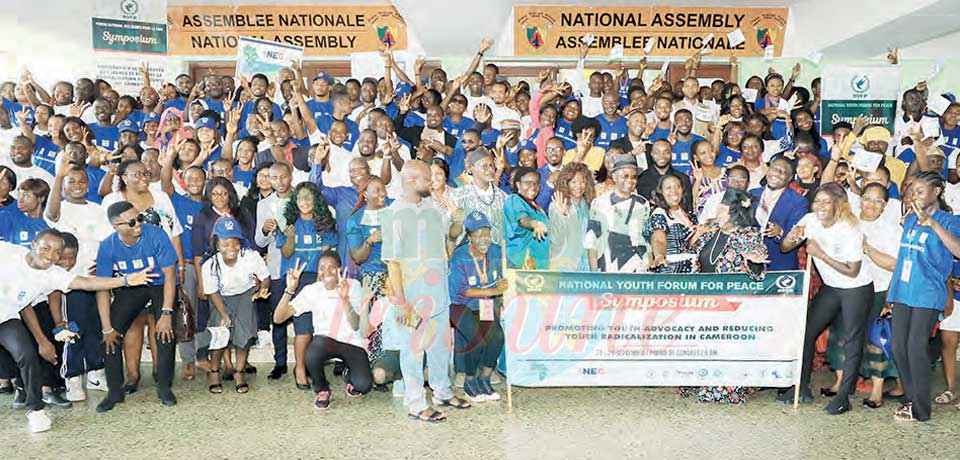 This is within an ongoing peace forum in Yaounde to reduce youth radicalisation in the country.
"We need peace in Cameroon. Give peace a chance." The message was echoed by some 500 young peace advocates drawn from the 10 regions of the country, yesterday September 28, 2023 in Yaounde. They had converged on the Yaounde Conference Hall within a two-day National Youth Forum for Peace. Organised by the Ministry of Youth Affairs and Civic Education, the Movement for Democracy and Transparency (MDDT) in partnership with several other institutions such as UNDP, the forum is part of activities to mark this years' International Day of Peace. The forum, which ends today, is out to create safe spaces to promote youth advocacy and reduce youth radicalisation in Cameroon as well as equipping 500 youths with skills towards a ceasefire in conflict regions.
Barrister Akonteh Clifford Niba of MDDT Cameroon said with the ongoing conflict in the North West, South West and Northern Regions of the country, and also considering the aggravating radicalisation of youths resulting in youth recruitment into armed groups, thousands of deaths, gross human rights violations, insecurity and hardship on civilians, there was need for such a forum to promote youth advocacy for peace. Noting that everybody has a role to foster peace in all the ten regions in the country, Barrister Akonteh said it was an opportunity to drive the energy of young people towards peace building while harnessing their potentials in the right direction.
In her keynote address, the guest speaker, Yaa Viban Gladys said youths in Cameroon need to be pulled out of the mindset of "we cannot", for it is time to examine how they can redeploy mechanisms to contribute to peace in the country. She said you...
Same category