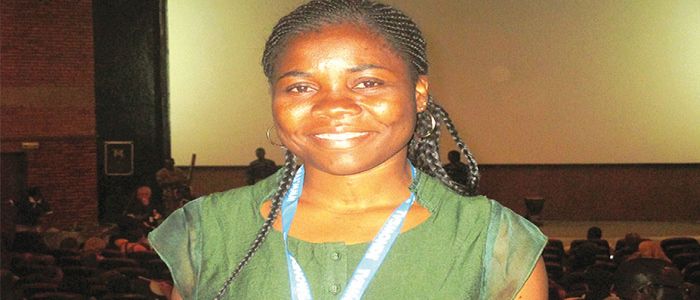 Pélagie Ng'onana, a journalist and film critic says the award given by her committee is more symbolic and not in monetary value.
Pélagie Ng'onana, is one of those holding crucial positions when it comes to recognizing those who are worthy to receive awards at the 2017 FESPACO festival. The young Cameroonian, a journalist by profession and a film critic through personal interest and training, is the president of one of the jury; the African Federation of Cinema Critics. The federation is charged with encouraging any film director that has done well in his duties.
Pélagie underscores that the award does not have a monetary value but a diploma given to a film director as a sign of recognition and encouragement. However, she explains that the award is good for any film director because it will play a vital role in his/her career in the future. She explained that working as a group to select the best film director in the festival is not easy especially as the jury members did not start work on the same day. As such others need to go back to the drawing board, watch and analysis before taking decisions on any film. The job is tiring and because they are long features which can last over two hours, Pélagie and her associates need to spend time watching the films before taking any decision.
Pélagie's committee is keen on the originality, creativity, narrative techniques and the style in filming certain scenes in the movie before taking into consideration how the movie can be graded. Each morning, the committee members meet to analysis what they have watched the previous day and see which to consider and which to eliminate before going ahead.
So far, Pélagie says in most films watched, they have noted with pleasure the place directors have given to women as they are at the forefront to handle any problem. While acknowledging the fact that most of the films are treating current issues such as terrorism, violence inflicted on women, Madame Ng'onana says it is thanks to her membership in the African Federation of Cinema Critics, that today she is able to maximise the skills she had always used to analysis cultural articles on different newspapers and websites.
Same category