2017 Legislative Year: Chinese Parliament Opens Annual Sessions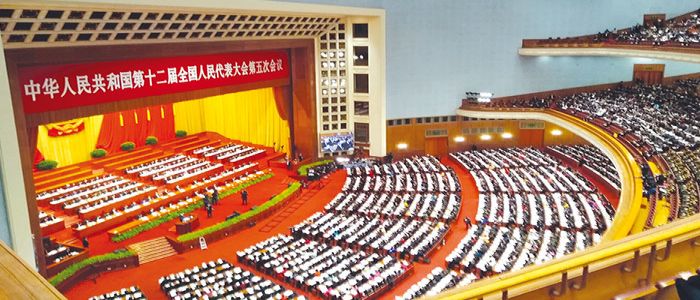 Over 5,000 members of the Upper and Lower Houses are meeting in the capital, Beijing
This year's Chinese political season got underway in the capital, Beijing, over the weekend when the two Houses of Parliament began meeting. The once-a-year sessions that last about two weeks are being covered by more than 10,000 journalists from China's over 1,000 media houses and some foreign correspondents. Security is understandably tight in and around the Great Hall of the People, the venue of the sessions.
The Chinese People's Political Consultative Conference, CPPCC (the equivalent of the Upper House of Parliament) opened its sitting in the Great Hall of the People on Friday, March 3, 2017. This was followed on Sunday, March 5, 2017, with the opening of the National People's Congress, NPC (the equivalent of the Lower House of Parliament) in the same venue. Prime Minister Li Keqiang gave a detailed report of last year's activities and listed plans for 2017 in the presence of President Xi Jinping.
PM Keqiang said the economy witnessed a slower, but stable performance in 2016 with momentum for growth. Gross Domestic Product, GDP, reached 74.4 trillion Yuan (about 6,663 trillion FCFA), representing 7 per cent growth and outpacing most economies. Similarly, 1,900 km of new high-speed rail lines came into service and more than 6,700 km of expressways were built or upgraded. On the other hand, personal per capita income increased by 6.3 per cent in real terms; with the number of people living in poverty in rural areas reduced by 12.4 million in 2016.
For 2017, the authorities plan to keep GDP growth at about 6.5 per cent, create over 11 million urban jobs, abolish 35 administrative charges paid by enterprises to the central government and reduce government-set operating fees for businesses. The number of rural people living in poverty will be reduced by 10 million, including 3.4 million people to be relocated from inhospitable areas.
Presenting the 2016 report of the activities of the CPPCC on Friday, Yu Zhengsheng said the Central Committee of the Communist Party of China, CPC, under the leadership of President Xi Jinping, pursued reform and development. This promoted balanced economic, political, cultural, social and ecological progress under the Four-pronged Comprehensive Strategy. The strategy seeks to finish building a moderately prosperous society in all respects, deepen reform, advance law-based governance and strengthen party self-governance.
Same category