President Paul Biya Invited To China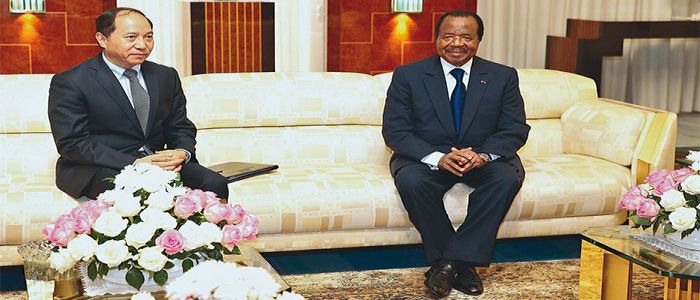 Ambassador Wei Wenhua tendered in the request during an audience granted him by the Head of State on Friday March 3, 2017
President Paul Biya has received an invitation from his Chinese counterpart, Xi Jinping, to pay a visit to China at a convenient time for both parties. China's Ambassador to Cameroon, H.E. Wei Wenhua made the disclosure to the press at Unity Palace on Friday March 3, 2017 after an over half an hour audience granted him by Cameroon's Head of State, Paul Biya. "President Xi Jinping invites H.E. President Paul Biya to carry on a visit to China in a convenient time for both parties," the Chinese diplomat told the press.
While lauding the cordial bilateral and win-win cooperation existing between China and Cameroon, H.E. Wei Wenhua sounded upbeat that much could still be done. "I have transmitted a verbal message of Chinese President, Xi Jinping to President Paul Biya. In the message, President Xi Jinping highly appreciates the constant efforts of President Paul Biya to develop friendly Sino-Cameroon relations. He hopes to work with his counterpart President Paul Biya to deepen mutual confidence and to promote friendly cooperation between the two countries," he said.
It is worthy of note that Friday's audience with the Chinese Ambassador to Cameroon was a second in less than three months. The Chinese diplomat was at Unity Palace on January 11, 2017 during which he pledged his country's determination to reinforce the existing win-win cooperation between Yaounde and Beijing that grows with each passing day. From the time China and Cameroon established bilateral ties some 46 years ago, both parties have been working tooth and nail to uphold and deepen the ties. Fruits on the ground tell of friends indeed who are permanently ready to come to each other's assistance in times of need.
While China praises Cameroon and Africa for standing by it thanks to which China was readmitted into the United Nations in 1971, Cameroon on its part cannot write its development story without giving prominent space to China. The Asian giant today stands as one of the great financiers and development springboards of Cameroon's growth vision. Ensuring the funding of multifaceted projects as well as bringing in its huge expertise to bear on their effective execution is China's hallmark in the fruitful Sino-Cameroonian ties. Life-changing projects like the Kribi Deep Seaport, Doula-Yaounde double-carriage road, Yaounde Conference Centre, Wada Multipurpose Sports Complex, Bafoussam and Limbe Stadiums as well as wide-ranging hydro-electricity dams among many others are visible examples of fruitful cooperation between the two countries worth upholding and deepening.
Wei Wenhua: « Le président Xi Jinping apprécie les efforts du président Biya »
Ambassadeur de la République populaire de Chine
« J'ai transmis un message du président Xi Jinping à S.E Monsieur le président Paul Biya. Dans le message, Monsieur le président Xi Jinping apprécie hautement les efforts constants du président Biya visant à développer les relations d'amitié sino-camerounaises. Il entend travailler de concert avec son homologue pour accroître la confiance mutuelle et promouvoir la coopération amicale entre les deux pays. D'ailleurs, le président Xi Jinping invite son homologue à effectuer une visite en Chine en temps convenable pour les deux parties ».


Same category