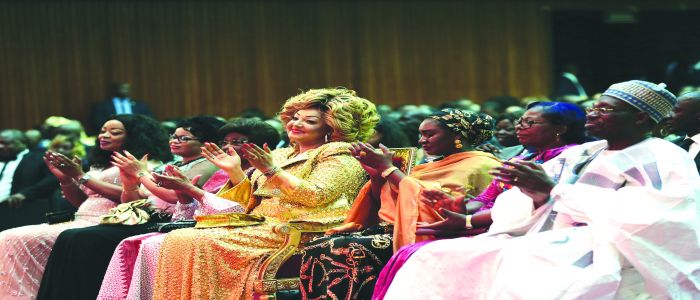 The 11th edition of music and cinema award organized by Canal 2 International held last weekend at the Yaounde Conference Centre.
Canal 2 International television media house once more made history on March 4 night breaking March 5, 2017 at the Yaounde Conference Centre when its music and cinema award baptized "Canal 2'Or Act 11" brought together scores of Cameroonian, African artists and hundreds of curious spectators.
The event will forever also be remembered as one in which Cameroon's First Lady, Chantal Biya did not only attend but stayed focused from 9:15 p.m. on Saturday, March 4 to 2:10 a.m. on Sunday, March 5, 2017. The First Lady electrified the hall drawing applauds and standing ovation when from time to time, she stood up, danced and encouraged artists. The peak of the ceremony came when before immortalizing the event through group photographs with winners of trophies in the various categories, Mrs Chantal Biya handed the trophy to the best artist of the year, Dynastie Le Tigre. First Lady Chantal Biya was flanked on the occasion by spouses of senior government officials in the presence of some cabinet ministers.
Communication Minister, Issa Tchiroma Bakary represented Prime Minister, Head of Government, Philemon Yang in the ceremony that was void of speeches. Besides trophies awarded to winners in different categories, some musicians were also distinguished as they were given special awards. The five beneficiaries included Ange Ebogo, Moni Bile, Meiway from Côte d'Ivoire, Grace Decca and Barbara Kanam from the Democratic Republic of Congo. Artists of the Central African Sub-region were also on the spotlight with NG Bling from Gabon being the winner of the Central African Revelation and Idylle Mamba from the Central African Republic the best musician of the sub-region. The best African artist was Ferre Gola. Indeed, each category had a winner. Besides the categories just cited, the others included, gospel music, world music, urban music, folklore, film makers, TV series, humorists, actors and actresses and popular songs. The trophy the national football team, the Indomitable Lions won in Gabon that had also gone round the country was also presented during the event.
The chairperson of the organizing committee, Colette Chatue in a statement said since the 10th edition, Canal 2'Or has become a two-yearly event. She said the jury selects artists with the best performance of the year just past.
Same category