GCE Board Extends Registration Deadline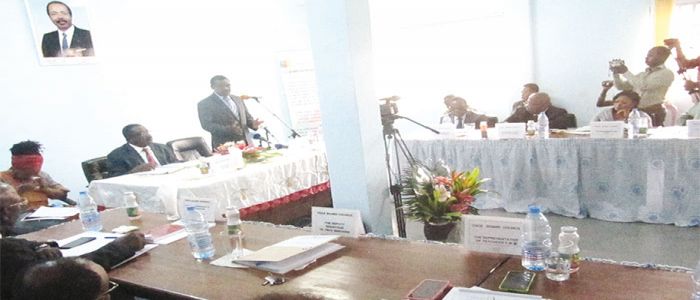 An extra-ordinary council session of the body met last Friday to address the ghost school syndrome that might affect exams this year.
Potential candidates for the 2017 exams organised by the Cameroon General Certificate of Education (GCE Board) have been given another chance up to the 20th March, 2017, at 2pm to formalise their registration.
This was resolved at the extra-ordinary Council session of the GCE Board held in Buea, 3 March, 2017, under the chairmanship of Professor Peter Alange Abety, GCE Board Chairman. The extra-ordinary Council session, held in the conference hall of the Board's Office, was necessitated by the current ghost school crisis which has impacted heavily on the academic year with thousands of students staying away from school in Anglophone Cameroon since 21 November, 2016, when the teachers' strike was declared in Bamenda.
Professor Abety took time to infuse the call for school resumption in Anglophone Cameroon. He emphasised that the extra-ordinary board Council session addressed the fact that GCE candidates had stayed away from school for over sixty days constituting what he termed a "big worry" in that ill-prepared candidates could compromise the standards already established by the exam Board. While acknowledging the problems that had ignited the strike, Abety implored parents and all involved not to escalate the existing anger but to have trust in the government-unionist dialogue which already produced fruits as far as education was concerned. He recalled that the PM displaced himself from Yaounde to Bamenda for two days as well as the Minister of Secondary Education who even went right to Kumbo (NWR) to investigate the real causes of the strike.
The extra-ordinary Council pulled all 21 Board members including representatives of the various education stakeholders like Catholics, Protestants, Islamic and teachers' trade unions who made committed declarations to the press in favour of school reopening.
In a five-point press release read out during the session by the GCE board Registrar, Humphrey Monono, the Board Registror appealed to all education stakeholders to effectively take back their children to school by Tuesday, 7 March, 2017. The Council called on lay private and confessional education authorities to disseminate information calling back students to their various schools. While the Council authorised the Registrar to publish all data on the 2017 examinations, the body congratulated parents, candidates and chiefs of GCE centres for undertaking the registration exercise according to tradition.
Same category