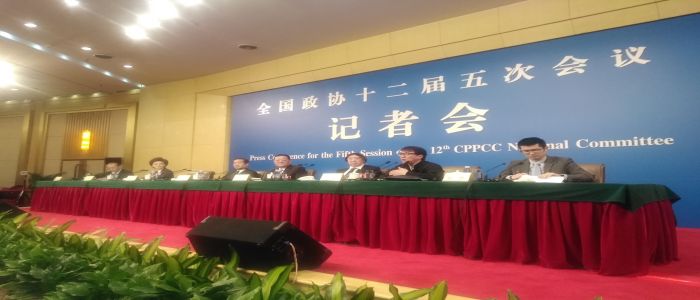 The Chinese Hollywood star spoke to the press in Beijing on March 7, 2017.
Hong Kong-born Chinese Hollywood star, Jackie Chan, is a household name not only in his home country, but also across the world. Cameroonian film lovers are certainly familiar with some of his movies such Shaolin, Kung Fu Panda 2, The 1911 Revolution, Chinese Zodiac, New Police Story 2013, Dragon Blade, Railroad Tigers, Kung Fu Yoga, etc. After 56 years of hard work and 200 films, Jackie Chan, 63, won an Oscar award on November 12, 2016 in the United States of America.
Chan was one of four artists to receive an Honorary Oscar Achievement Award from the Academy of Motion Picture Arts and Sciences. In his quest to continue promoting Chinese culture, Chan and six fellow members of the Chinese People's Political Consultative Conference, CPPCC, (the Upper House of Parliament) addressed the press in the capital, Beijing, on March 7, 2017.
"I was the first Chinese to be so honoured. I said on the occasion that I was proud to be Chinese. It was an honour to accept the award. At first, I didn't believe the news that I will receive the award," explained the soft-spoken Chan. "My goal is to become a super international star. Whatever the salary, I will keep making movies. Actors and film makers should insist on being successful. This is what I believe in it. Just remember to pursue your dream and never give up," advised the Hollywood star.
"Previously, Chinese people made films only in Hong Kong. But Chinese film makers today cooperate with others after the country opened up to the world. We currently have more opportunities to learn from others' movies," Chan stated. Now, he sees his new role as challenging. "I think I should behave better because I am already a model. I recently attended a conference. Though I was late, the organisers waited and listened to my advice. I am making a new film and everyone listens to my suggestions," Jackie Chan disclosed.
Jackie Chan (second from right) has over 200 movies to his credit in 56 years of career.
Same category