Ngaoundéré: les femmes disent leurs droits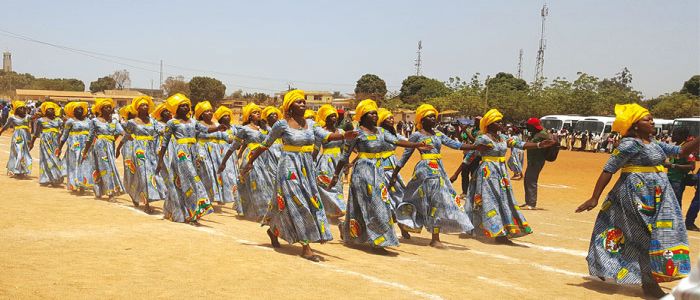 Lors du défilé à la place des fêtes, les femmes ont exprimé leurs droits en toutes langues.
Il y avait, durant une semaine, des manifestations multiples et des plaidoyers. A la place des fêtes, il ne fallait point faire la fine bouche. Pour Christine Barya, déléguée régionale de la Communication de l'Adamaoua, « Le défilé à la place des fêtes est une tribune parmi tant d'autres où nous pouvons exprimer nos droits. Nous n'avons pas boudé cette opportunité ». Dès l'ouverture, une banderole en anglais précède le carrée spécial des épouses des autorités de Ngaoundéré. « 32nd edition of the International Women's Day in Cameroon ». Theme : « Women in a changing world of work: Planet 50-50 by 2030 ». Déclination opportune en langue de Shakespeare afin de traduire à leur manière leur bilinguisme. Les femmes des services publics et parapublics, des services privés, des associations et mouvements des femmes défilent au pas bien cadencé.
Elles viennent des trois arrondissements de Ngaoundéré 1er, 2e et 3e. Au bouquet d'ouverture, et de clôture, le drapeau, l'effigie du chef de l'Etat, banderoles avec thèmes et autres plaques aux messages évocateurs. Près d'une centaine de groupes de femmes intégrant tous les corps de métiers. Allant des femmes au foyer, celles exe...
Same category