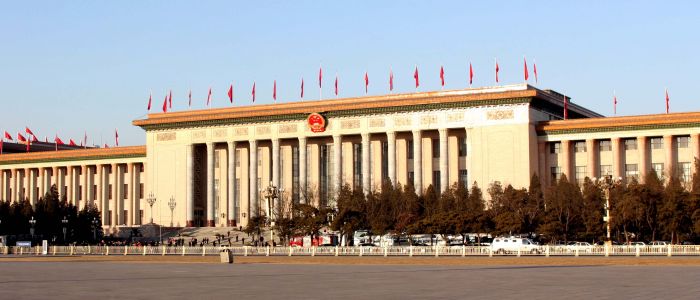 The National People's Congress meets in the capital, Beijing, until March 15, 2017.
The fifth session of the 12th National People's Congress, NPC, (the Lower House of the Chinese Parliament) began meeting in the capital, Beijing, on March 5, 2017. The session, which lasts till March 15, 2017, is discussing amongst others draft General Provisions of the Civil Law. NPC sources explain that the statute provides an overarching framework for the country's Civil Code. Chinese society has evolved fast in the past 30 years since the last bill on the subject was enacted in 1986, officials explained.
Apart from routine discussions on six reports, including activities of government in 2016, parliamentarians will also examine three motions on the election of deputies for the 13th NPC. According to a release from the NPC Secretariat, deputies will prepare the holding of the forthcoming 19th National Congress of the Communist Party of China, CPC, and also make contributions to the implementation of the Two Centenary Goals and the Chinese Dream of great national renewable.
The goals entail building a moderately well-off society and accelerating socialist modernisation. This means doubling China's 2010 Gross Domestic Product, GDP and per capita income for both urban and rural residents by 2021 when the CPC celebrates its 100 years. GDP grew by 10.3 per cent in 2010 to 38.80 Trillion Yuan (about 3,579 Trillion FCFA). Also, measures will be taken to help transform China into a modern socialist country that is prosperous, strong, democratic, culturally advanced, harmonious and moderately developed by 2049 when the nation celebrates its centenary.
During the session, 16 press conferences will be organised in the Media Centre. Topics to be addressed include the work of the NPC, cabinet ministers and other State officials. After the conclusion of the session on March 15, 2017, Prime Minister Li Keqiang will give a press conference and take questions from Chinese and foreign journalists. The National People's Congress is meeting at the same time as the Chinese People's Political Consultative Conference, CPPCC- the Upper House of Parliament. It is a largely advisory advisory body made up of people from all walks of life.
Same category