Anglophone Crisis: National Assembly Appeals For Continuous Dialogue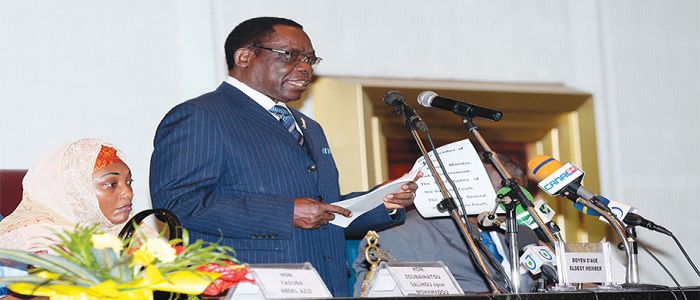 The eldest member of the House, Hon. Enow Tanjong recommends the acceleration of the decentralisation process as part of the solutions.
The eldest member of Cameroon's National Assembly, Hon. Enow Tanjong on behalf of the House has called for all possible avenues to be explored to resolve the current crisis rocking the North West and South West Regions of Cameroon, recommending continuous dialogue and the acceleration of the decentralisation process. He spoke on March 13, 2017 as he chaired the opening plenary sitting of the March 2017 ordinary session of the Chamber which is run for now by the provisional bureau while waiting for the election of the permanent bureau.
Hon. Enow Tanjong said the Anglophone problem has for some time now triggered off social unrest in the North West and South West Regions. He condemned the arson that ravaged the Faculty of Medicine of the University of Bamenda on March 3, 2017 and the destruction of the administrative block of the Government High School Akwaya. He encouraged the countermove to normalise the situation as leaders from all strata of the society have joined the Head of State in appealing for dialogue and peace. He hailed in particular the recent creation by the Head of State, Paul Biya of a National Commission on the Promotion of Bilingualism and Multiculturalism, which he further said was a platform of unity. «Like the Indomitable Lions, let us be united and target the same goal. Like the Indomitable Lions, Cameroonians are a team, with different and individual styles, but moving in total cohesion, » Hon. Enow Tanjong appealed.
Before he appealed for Cameroonians to adopt the spirit of the National Football team, the Indomitable Lions, he on behalf of the National Assembly congratulated the team on its victory in the 2017 Africa Cup of Nations in Gabon. « It was the performance of conquerors on an onslaught for their country's honour first, » he said. Drawing inspiration from the victory of the Lions, he said, « Your conduct is therefore a good lesson for all compatriots: patriotism, unity and cohesion are the values that you surely wanted to inculcate in Cameroonians, through your tour of the ten regions. »
The opening plenary sitting was in the presence of the eldest member of the Senate, Senator Nfon Victor Mukeke, Attoney General of the Supreme Court, Vice Prime Minister, Minister Delegate at the Presidency in charge of Relations with the Assemblies, Amadou Ali and some heads of diplomatic missions in Cameroon. It was an occasion to pay tribute to the departed such as Hon. Joseph Mboui, Joseph Charles Doumba, Secretary General of the National Assembly from 1966 to 1974 and victims of the helicopter crash at Bogo on January 22, 2017 that killed four soldiers fighting Boko Haram, including Major General Jacob Kodji.
Same category