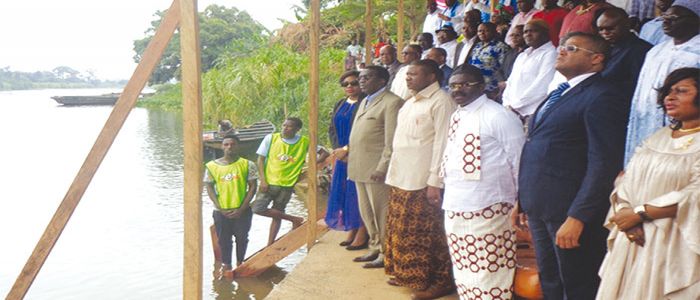 Arts and Culture Minister, Narcisse Mouelle Kombi, presided at the one-day cultural event on the Bonabwaka wharf in the island village of Bonjo in the Nkam Division on March 11.
The first-ever Madiba Festival, otherwise called the Water Cultural Carnival, which seeks to bring together the riverside people of the Wouri-Nkam River and its environs to preserve, conserve, restore, promote and especially safeguard and valorize their common cultural heritage, was celebrated on the island village of Bonjo in the Nkam Division of the Littoral Region on Saturday, March 11. The ceremony, which took place on the beautiful Bonabwaka wharf, was presided at by the Minister of Arts and Culture, Narcisse Mouelle Kombi, who himself is a son of the village, in presence of the Minister of Secondary Education, Ernest Massena Ngalle Bibehe, erstwhile Minister of External Relations, Moukoko Mbonjo and the Secretary General in the Littoral Governor's Office, Etienne Ludovic Ngbwa, as well as music artists of the area such as Sergeo Polo, Narcisse Prize, Moni Bile and others including Ekambi Brillant and the Group Ambass Bay, who kept the public miming and thrilling through spectacular performances.
The Chief of the village and his notables led the Ministers and their delegations and guests through the exhibition stands and testing of various Sawa traditional dishes, with a visit to the sacred baobab, which is a national heritage site, where the picture of great figures in the history of the Sawa people were exhibited. The day grew more interesting with separate swimming competitions by men and women, canoe races, nautical parade, demonstration of traditional fishing and underwater competition, among other things. With the event taking place on the beautiful Bonabwaka wharf, visitors had the opportunity to savour the scenery, have fun and partake in economic exchanges. It was also on the wharf that animations and exhibitions were carried out.
Speaking to reporters at the Littoral Regional Delegation of Arts and Culture in Douala March 3, the Littoral Regional Delegate of Arts and Culture, Dr. François Edimo, and the President of the Organizing Committee, Jean Pierre Bebe, were upbeat that such a cultural heritage contributes significantly to social and economic development, reason why the Madiba Cultural Festival seeks to spur parents and children to be involved in the preservation of their own heritage.
Bonjo is an island locality of the Wouri River situated some 20 kilometres away from Douala. It is reputed as the historic village in the paramount chiefdom of the Wouri-Bwele clan.
Same category