Art Entertainment: Discovering China's Finest Military Hymns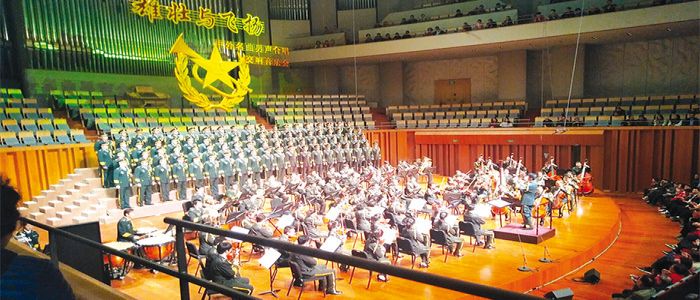 A capacity crowd of fulfilled music lovers attended a choral concert in the capital, Beijing, on March 14, 2017.
The Song and Dance Ensemble of the Chinese People's Liberation Army (PLA) General Political Department is renowned for the experience, talent and skills of its members. The troupe has so far held performances in nearly 100 countries in Africa, Asia, Oceania, Europe and the USA. It was therefore no surprise that a choral concert it held on March 14, 2017, in the Chinese capital, Beijing, drew a capacity crowd.
Spectators – both Chinese and foreigners - sat spell-bound, enjoying the music and cheering the male and female soldiers all clad in military ceremonial suits. The evening concert, which lasted about two hours, held in the state-of-the-art Concert Hall of the posh National Centre for Performing Arts, with the tireless world-class conductor, Li Yuning, leading the team. The troupe was made up of about 40 choristers and 70 instrumentalists using modern and traditional drums, accordions, trumpets, violins, rattles, saxophones, flutes, clarinets, trombones, etc.
Singers stood at attention throughout the performance as if they were at a military drill. Understandably, the instrumentalists sat down. Different compères stepped forward from time to time to introduce upcoming songs and their significance. Yi Yuning was simply impressive in his characteristic military style as he led in the performance of Christian-like hymns, opera songs and military brass band music. Amongst the songs performed were "Ode To Yan'an," "There Would Be No New China Without The Communist Party," "Holy War," "Song Of Young League Members," "Song Of The Volga Boatmen," "Kalinka," "Today Is Your Birthday, China" and "Glorious China."
About 4,000 people attended the event - obviously from Beijing's fast growing affluent population as entry tickets sold for at least 300 Yuan (about 26,750 FCFA).

Same category