Fight Against Insecurity: USA To Continue Partnering With Cameroon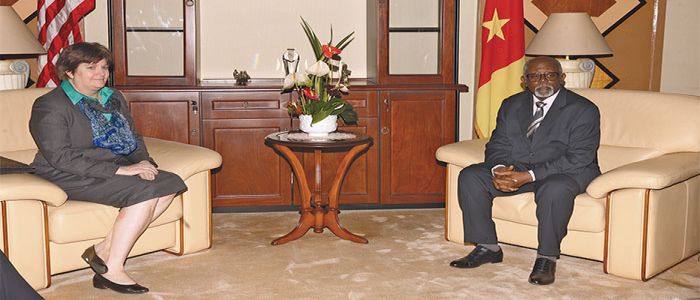 The Deputy Assistant Secretary for Central African Affairs Stephanie S. Sullivan made the declaration in Yaounde on March 17, 2017.
Cameroon has received the assurance of continuous partnership from the United States of America (USA) in fighting against insecurity in the country with the epitome being the terrorist group Boko Haram.
The Deputy Assistant Secretary for Central African Affairs for the Bureau of African Affairs at the U.S. Department of State, Stephanie S. Sullivan gave the assurance in Yaounde on Friday, March 17, 2017 after talks with Cameroon's Minister of External Relations, Lejeune Mbella Mbella. Accompanied to the audience by the U.S. Ambassador to Cameroon, Michel Stephen Hoza, the senior official said, "the U.S.A. will continue to be a partner to Cameroon. Cameroon has proven to be a sure and steady partner in the fight against insecurity." Stating that bilateral relations between the two countries will continue to grow from strength to strength, Stephanie S. Sullivan said to the press, "I told the Minister how the international community was grateful for Cameroonian hospitality to refugees."
Talking on other issues discussed during the audience, the senior official said, "We had a very fruitful exchange about bilateral relationship which is founded on multiple areas including security, economic cooperation, as well as Cameroonian democratic values." In this light, she said the U.S. interest was to see Cameroon prosper.

Same category