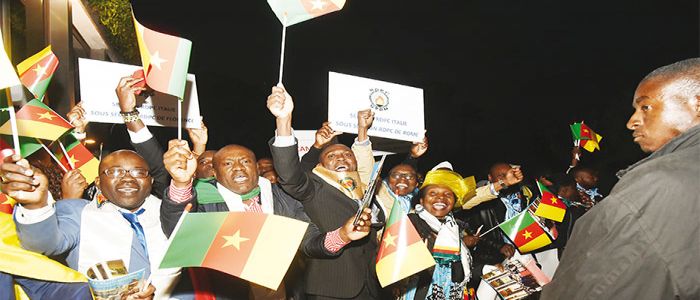 As the First Lady accompanies her husband for a State visit to Italy, it is obvious she will reinforce ties with her Italian partners in the health domain.
Cameroonians came out in their numbers over the weekend to receive Cameroon's Presidential Couple, Paul and Chantal Biya, at their Hotel Rome Cavalieri residence in Italy for a State visit. The enthusiastic crowd of Cameroonians living in Rome and other cities in the Italian and Vatican States were not just happy to see their Presidential Couple, but more particularly, Madame Chantal Biya whose closer connection with Italian experts in the health domain has yielded fruits which have gone a long way to improve the health of Cameroonian mothers and children.
Mrs Chantal Biya's presence in Italy will not just be that of a companion. Her unique interest in improving the health care of her compatriots will certainly be on display as it has always been the case years back. With determination, Cameroon's First Lady, has shown interest in working with Italian health experts for the good of Cameroonians at all levels. Be it through her Foundation that bears her name; Chantal Biya Foundation, the African Synergy for the Fight against HIV and Suffering, in which she is the Founding President or the Chantal Biya International Reference Centre for Research on HIV/AIDS Prevention and Management, (CIRCB) whose creation in February 2006 was as a result of a huge advocacy initiated by African First Ladies, through the NGO African Synergy, Cameroon's First Lady has increasingly widened and tightened contacts with Italian health experts so as to improve health services to Cameroonians.
In March 2010, the First Lady received a delegation of Italian cardiac specialists from the association "Enfants Cardiaques du Monde" who are working in partnership with her Foundation to handle cases of children suffering from different heart diseases. During that audience which took place at the East Wing of the Unity Palace, Mrs Biya and her partners had the opportunity to strengthen ties in ensuring that children with heart diseases have a chance of surviving. Today, a children surgical cardiac centre is under construction at the Chantal Biya Foundation in Yaounde.
It is worth recalling that the inauguration of CIRCB on February 23, 2006 was made possible through enormous financial and technical support from the Italian government not only to set up the four main laboratories in the centre, but also to carry out research works geared toward preventing HIV, providing care to those living with the virus as well as reinforcing research for an imminent vaccine. Today, information reveals that one of the prominent projects sponsored by the Italian government at CIRCB is the "Families First Africa" project. Eminent Italian scientists such as Vittorio Colizzi have been instrumental to the success of CIRCB. From the look of things, Chantal Biya will have a familiar set of people to see and with whom to have fruitful conversations.

Same category