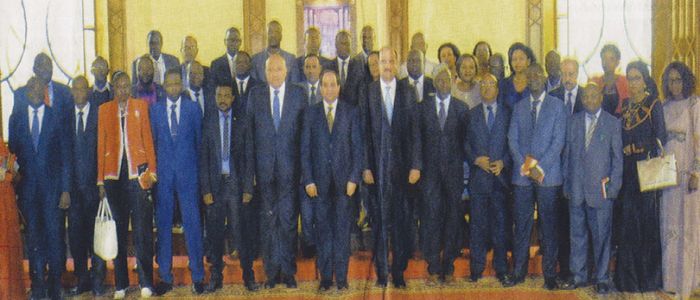 "The world is a book, and those who do not travel read only a page." Egypt can be likened to this book whose contents are rich and open to those who browse through to get the truth for themselves. People who have not visited this cradle of civilization to see and live the wonderful works of great minds can be said to have missed reading the contents of an interesting book.
Pyramids, the Cairo museum with over 400,000 exhibits, the tombs and castles of Luxor, mummified remains of ancestors and the Suez canal, to mention just these few, tell the truth about a people whose mental prowess and love of their country, render Egypt enviable.
This greatness which did not end with the pharaonic era can still be seen in today's Egyptian minds from their architecture, knowledge of mathematics, astronomy, and belief in life after death.
The Egyptians of this century continue what their forefathers contributed to civilization, and face the challenge of continuing their contributions by preserving the treasures of the past, and forging ahead with the demands of modernity.
In doing this, they have not forgotten that despite the influence of Islam, Egypt played a significant role in the foundation of the Christian church in Africa. Besides the fact that the holy family, (Mary, Joseph and the baby Jesus) sought refuge in Egypt when king Herod, wanted to eliminate his young "rival" Egypt is worthy to be venue of Christian pilgrimage.
In their strategy to showcase this greatness of their ancestors and today's commitment to affluence with emphasis on cooperation for development, the Egyptian government brings in people from different parts of the world to market their enviable image and foster international cooperation for development.
This time, it was the turn of some 37 senior media professionals from 25 African countries. They were invited to come, see, share, and appreciate what this great African country is doing, not only to develop itself, but also see that other African countries are not left behind. Great!
Organized by the Egyptian Agency for Partnership, Cooperation and Development, an affiliate of the Ministry of Foreign Affairs, this team of mass educators started their extensive programme in Cairo on Monday 26 February 2017 at the Ministry of Foreign Affairs. From various speakers, the objective of the programme came out clearly. Greater cooperation with fellow African countries in the quest for development and combat of societal ills.
By the time it ended on Monday 13 March 2017 each participant had, gathered enough to share with compatriots back home, about an African country, they can be proud of.
After visiting striking tourist sites, training centres, media infrastructure, the castles and tombs of Luxor, and sharing with top executives, the senior media professionals were on Sunday 12 March 2017 received by Egyptian President Abdel Fattah El-Sisi in his presidential palace.
"We are all Africans and you are our brothers and sisters on this beloved continent of ours. We have common problems and need to cooperate to forge ahead." We have to work together to solve our common problems."
This message was quite impacting to the visitors. For, most of them had always believed that Egyptians thought they were more of the Arab world than the peoples of Africa. The President came out clearly in his address when he said, Egyptian's policy towards Africa is based upon reflecting on the continent's crucial issues at all international fora. Egypt can play an important part considering the country's membership of the Security Council of the UN, the African Union's Peace and Security Council, and the UN Human Rights Council."
In such a position, who doubts what an African country aware of the needs of fellow African nations can do on their behalf? Such concern could be noticed from the President's remark to the journalists that in the past Egypt concentrated on the liberation struggle of fellow African countries, but with the current challenges of development, and fight against terrorism, his country is committed to cooperation for development. The Nile Basin, he cited, is another means by which government is bent on fostering cooperation with other African countries, to boost developmental projects.
The President's emphasis on cooperation and the important role media professionals are expected to play in sensitization reiterated much of what the media professionals had been hearing where ever they went in Egypt.
Common Problems
As the team visited places of interest such as the Police Academy, Units of the Egyptian, Thunderbolt forces, the Egyptian Media Center, and the Anti Corruption Authority Centre, it was indeed impressive and impacting to notice that their hosts are not only keen on the development of their own human resources, but also those from other African countries. Students from other African countries including Cameroon were seen active in their training at various centres.
This is important at this time that the common enemies of terrorism, unemployment, poverty and famine must be combated at national and international levels.
Developmental Gaps
After visiting this cradle of civilisation and seeing what it boasts of in the way of human and physical infrastructure, none of the African media professionals could doubt the wide developmental gap between Egypt and other African nations. This gap can be filled, or narrowed through hard work and patriotism, the secret of Egypt's success story.
This secret was repeated when at the Suez Canal I asked an Egyptian the truth behind their success stories, and he said, "Hard work and love of the country. That is why we were able to complete in eleven months the work on a second Suez Canal which was expected to take three years".
The Egyptians earn at least 5 billion US dollars from the Canal a year. Before the emergence of the difficult times in the country and the drop in tourism, Egypt used to make 14 million dollars from tourism alone per year. Revenue from tourism had since dropped to 5 million a year, but things are gradually coming back to normal, it was made known.
Fruits Of Open Door Policy
Africans in general, and Egyptians in particular are today proud that owing to the great minds of the citizens of ancient times, Egypt is indeed the cradle of a civilization, and because of its open door policy in Africa, it is today a tourist Eldorado. Besides being what Africans are proud of, Egypt is indeed a book worth reading, not only because of prowess of the pharaonic era, but also because with the country's modern principles, it occupies an enviable position within the United Nations Organization, and the African Union. It is also a peace –loving country.
Egypt, for example is the eighth largest contributor to UN peace-keeping operations. It is the pride of Africa in its contribution to civilization including football.
In 2015, Egypt contributed more than 30,000 personnel to 37 UN missions of which 60.71% had been deployed to Africa.
Egypt hosts the Centre for Peace Resolution and Peace Keeping in Africa (CCCPA) and is one of the members of the none-permanent members of the U.N Security Council.
In this position it is indeed laudable that after several years of apparent marginalization of fellow African countries, is today committed to giving new meaning to what makes it an African nation on the African continent.
Lessons
While visiting the pyramids in Egypt on Saturday 4 March 2017, I asked an Egyptian friend, the question I put to a Chinese in 2004 when with fellow Cameroonians, I was braving it up the Chinese wall.
"What has been the secret behind this achievement? How could your forefathers undertake this kind of project with the belief that it would be accomplished? "Love of the country and concern for its citizens has been the secret behind what you see here". Like what my Chinese guide told us in 2004, our Egyptian repeated the same message to us with pride.
Without the love for your country and its people, it is difficult to come together, sit down, plan and sacrifice to execute a project in the interest of all citizens. When it concerns security or development, he expatriated, the challenge is crucial.
And what a truth worth reflecting on, and embracing its implications! For, the rest of us who had already seen some of the works that really make Egypt a cradle of civilization, none could doubt that without genuine love for the country citizens would hardly come up with what they had already seen at the museum and other sites. Our Egyptians hosts harped on the need for Africans to cooperate at nation and international levels. But we must first patriotic.
For, without love of the country and its citizens, compatriots of a nation can hardly sacrifice for their own future. Yet the problem in most African countries is that many people like or love the positions of responsibility, than the country and its future.
Such citizens see nothing wrong in involving themselves in activities that either tarnish the image of the country or even destabilize it.
At a time when today's African nations which in effect, are colonial creations void of ethnic or linguistic links are struggling to forge unity and cooperate for progress some citizens hardly see the importance of relinquishing selfish interests to embrace patriotic trends that ensure cooperation for development.
Instead we should learn from other nations, whose fruits of patriotism and hard work we admire.
Egypt which is in effect, the cradle of human civilization has leant from its past, and is leaving no stone unturned to correct errors of contemporary undertakings and continue working in the interest of present and future generations.
Impacting Declarations
H.E. Abdel Fattah El-Sisi, President of the Republic of Egypt.
- "Egypt's concern to reinforce cooperation with countries of the River Nile Basin is meant to turn the water way into a nexus for development.
- Egypt is keen on consolidating relations with all countries and peoples of Africa.
- The African media have a central role to undertake in promoting citizens awareness of the relevant issues that concern their lives. African news organs are also entrusted with the important task of contributing to the reinforcement of ties between African countries.
- Egypt's policy of openness to other nations is based on the firm principles of non- interference in the internal affairs of other African countries.
- The Egyptian people have rejected terrorism and extremism and have decided to confront this phenomenon until it ends at all levels."
H.E. Ambassador Dr. Mounir Zahran
Executive Director of Council for Foreign Affairs
- "We are all Africans with common goals and common problems which we can better solve through cooperation."
Leila Al Mokadem : President Rep. of African Dev. Bank.
- "Africa's challenges are huge and resources are limited, therefore the Bank's goal is to ensure that it continues to move forward to deliver greater development impact for the people of Africa.
- Over 645 million Africans do not have access to electricity, 700 million without access to clean cooking energy and 600,000 die each year from indoor pollution from reliance on biomass for cooking.
- Regional integration is critical for boosting economic growth in Africa.
- There is an urgent need for Africa to rapidly industrialize and add value to energy thing that it produces, instead of exporting row materials that make it susceptible to global price volatilities."
His Eminence the Grand Imam of Al Azhar
- "We share the same destiny. We are all required to show solidarity and to work together to preserve our human, social and religious existence;"
Same category