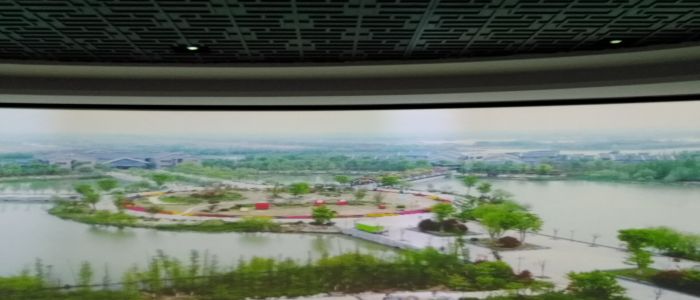 The Pan'Nan Lake Park in Jiangsu Province was formerly an abandoned site after decades of coal mining.
The aftermath of mining in most areas is usually disastrous to the environment. This was the case of Pan'Nan, a little locality in Jiawang District in China's Jiangsu Province. The area underwent coal mining 300 years ago - an activity that lasted about 6o years. As a result of the damage caused to the soil after it had been repeatedly turned over in search of coal, the site could not be put to any meaningful use after.
It was not until some few years ago that authorities of Jiawang District – the lowest level of local government in China – decided to make better use of Pan'Nan. "There was only one option left – to reclaim the land by creating lakes and wetlands," explained Zhang Sheng, the Deputy Mayor of Jiawang District. The construction, which cost 3 Billion Yuan (about 264.3 Billion FCFA), was completed less than two years ago. "With this project, the ecology of the 7.5 square-kilometre area has once more restored," noted the smiling Deputy Mayor.
Located on the outskirts of the city of Xuzhou that boasts a population of 10.3 million people, Pan'Nan Lake Wetland Park is today every visitor's curiosity. It was named after Pan An who lived during China's Jin Imperial Dynasty. He spent time in the locality each time he travelled to Xuzhou. Pan'Nan receives an average of 1,000 tourists a day. It is a leisure park integrating lakes, wetlands and farm stay. Not long ago, it was given "The Most Beautiful Rural Wetland In China" award in recognition of its outstanding splendor.
The park is made up of several man-made lakes, flowing streams and wetlands, with carefully selected plants brought in from Southern China. Services include boat rides, long walks on paved footpaths, and the concreted and wooden pedestrian foot bridges overlooking large expanses of flowing clean water. The park also boasts numerous tea and gift shops, restaurants and even traditional Chinese musicians ready to perform for tourists.
In order to continue to maintain its environment-friendly status, Jiawang District authorities plan to construct health facilities, schools and other social infrastructure around the Pan'Nan Lake Wetland Park. Industries are to be kept out completely for fear that they will once more pollute or contaminate the serene environment.
Same category