Cotton Production: MINADER Responds To Senator's Preoccupations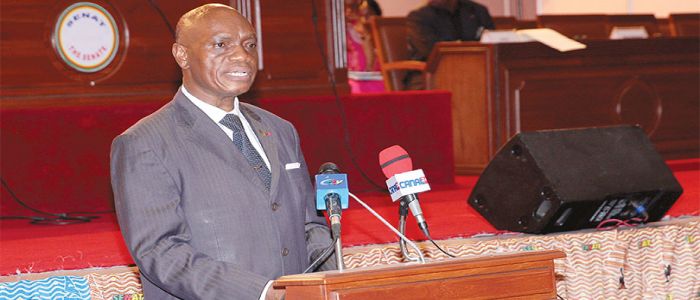 Agriculture and Rural Development Minister Henri Eyebe Ayissi was one of the five members of government questioned on March 30, 2017 at the Senate.
The Minister of Agriculture and Rural Development (MINADER), Henri Eyebe Ayissi has reassured members of the Senate that the government is leaving no stone unturned to promote cotton production in the three northern regions of the country. The Minister outlined a series of measures put in place to boost the sector and the Cotton Development Corporation (SODECOTTON) while responding to questions from Senator Bebnone Payoni on what the government is doing to promote cotton production and rejuvenate SODECOTTON, during a question and answer plenary sitting chaired by Senate President, Marcel Niat Njifenji.
Minister Eyebe Ayissi began by presenting the situation of Cotton production in the North, Far North and parts of Adamawa regions which he said employs about 206,000 producers. Given the strategic importance of cotton production, the Head of State, he stressed, instructed for the restructuring of the sector. With the instructions of the Head of State, multiple actions to boost cotton production were taken with a well elaborated strategy drawn up. Mr. Eyebe Ayissi pointed out that the government disbursed FCFA 500 million as subvention to SODECOTTON as well as the distribution of some 25,500 bags of fertilizers to producers. The government has also been keen to help cotton producers diversify agricultural production with the development of 60 hectares of maize and 70 hectares of sorghum farms in order to avoid over dependence on cotton alone for livelihood.

Same category